Newspaper headlines: EU fake news crackdown and solo Dec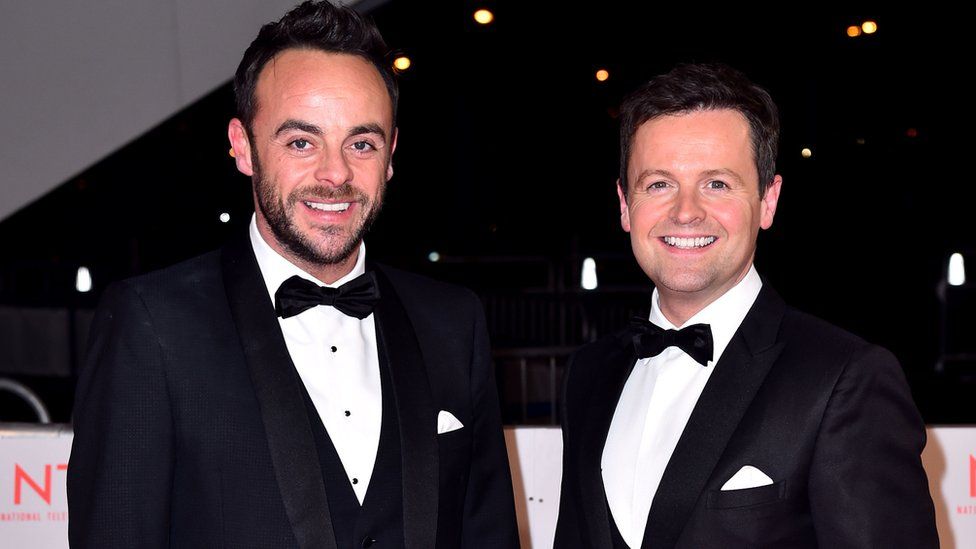 Monday's papers lead with a mix of stories, including a report the EU is taking aim at fake news and a child poverty warning from teachers.
The Financial Times reports Brussels is preparing to crack down on social media companies accused of spreading fake news, ahead of next year's European Parliament elections. The European Commissioner for Security, Julian King, has warned that online "disinformation" threatens to "subvert our democratic systems".
A warning by head teachers that extreme child poverty is worsening across the UK features on the front page of the Guardian. It says a survey has found teachers are regularly buying sanitary products, shoes and coats for pupils, and providing basic services such as washing uniforms. The head of a primary school in Portsmouth tells the paper he kept his school open during the snow this winter because he was worried children would not get a hot meal.
According to the Sun, Declan Donnelly "broke down in tears" after presenting a television programme for the first time without his on-screen partner, Ant McPartlin. It says Dec gave an "emotional speech" to the studio audience of Saturday Night Takeaway after the show had finished and thanked them for "carrying him through". The Daily Star claims Dec will pay a public tribute to Ant, who will appear in court charged with drink driving on Wednesday, by singing the Friends theme tune, I'll Be There For You, live on TV next weekend.
The Times says Scotland Yard has abandoned its policy of automatically believing victims. The Metropolitan Police Commissioner, Cressida Dick, has told the paper she has instructed officers to not blindly believe following a series of flawed inquiries into alleged sex crimes. She says police should start "with a completely open mind" but adds: "Our default position is likely to believe... but we are investigators and we have to investigate."
The Telegraph leads with the departure of Alison Saunders as head of the Crown Prosecution Service. It says she is stepping down as director of public prosecutions after the government declined to extend her contract, with a Whitehall source telling the paper a "clean break was needed". But the article goes on to say Mrs Saunders had not asked for her contract to be extended.
Meanwhile, an investigation by the Daily Mail has found that health bosses have spent almost £6m of taxpayers' money on what the paper calls "luxuries, bars and restaurants". The paper makes clear its feelings with the headline "Enough To Make You Sick!" and says officials used "government procurement cards" in pubs, cocktail bars, bowling alleys and fast-food restaurants. A Department of Health spokesman said it has taken steps to ensure some money has been recouped and "will take further action if needed to make sure card holders are crystal clear on the rules".
The Mirror splashes with its exclusive story about the late boxer, Scott Westgarth, who saved seven lives through organ donation following his death hours after winning a fight in February. His mum, Rebecca, tells the paper she is "so proud" and that whoever received his heart is "so lucky".
The BBC's plans to ensure a 50:50 balance between male and female guests on news and current affairs programmes by April next year are highlighted by a number of papers. The Times reports more than 80 programmes have signed up to the challenge, while a number of others have been "quietly following the guidelines" for several months already. But the Guardian warns that campaigners are "less than enthusiastic". The leader of the Women's Equality Party, Sophie Walker, tells the paper she suspects the policy is being trumpeted "to divert attention" away from the BBC's still unresolved cases of pay discrimination.
A number of leader columns discuss the anti-Semitism row that continues to trouble Labour - and none are kind. "Labour has become the nasty party," says the Telegraph while the Mirror thinks Jeremy Corbyn's decision to delete his personal Facebook account "is evidence of a party struggling to get control". The Sun insists the Labour leader "can't erase his past".
Meanwhile, Eddie Izzard, who was promoted to Labour's ruling NEC after Christine Shawcroft quit last week, has told the Mirror he will use his position on Labour's ruling body to "stamp out the stain of anti-Semitism". Writing in the paper, the transvestite comic says he knows what it's like to suffer abuse for who you are.
The Sun and the Telegraph both report that Labour knew a male MP had been accused of beating his wife before the election in June last year - but still allowed him to stand as a candidate. Both papers also say Mr Corbyn first learned of the claims in November - but neither names the alleged offender. Labour says it's taking the claims "extremely seriously".