Newspaper headlines: Festival death plea and abortion reform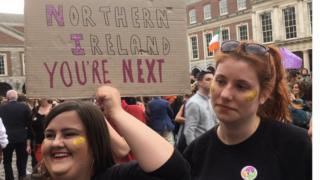 The impact of Ireland's landslide vote to liberalise abortion law continues to dominate some newspapers, with the focus now on what it means for Northern Ireland.
Writing in the Guardian, Anne Enright, the Irish novelist, first thanks Britain for being "there for Irish women" but calls for reform in Northern Ireland, where abortion law is more restrictive than the rest of the UK. She says: "This anomaly now cries out for reform".
The i's assistant editor, Siobhan Norton, says Theresa May faces a choice between showing compassion or "looking the other way", given her reliance on the Democratic Unionist Party to prop up her minority government.
But Anne Atkins - who describes herself as pro-life - writes in the Daily Mail that she worries about the loss of free speech in the debate. She says those who find themselves on the "wrong side" are dismissed as "women-hating, bigoted or uncaring".
Meanwhile, two newspaper front pages lead with a tribute from the mother of Georgia Jones, a teenager who died at a dance music festival in Portsmouth. Ms Jones, 18, is one of two people who died in separate incidents at Mutiny Festival at the weekend.
Both the Sun and the Mirror report on bereaved mum Janine Milburn's Facebook plea which reads: "Georgia died yesterday due to complications after taking two pills at Mutiny... if nothing else I hope what has happened to her will deter you from taking anything ever".
The Daily Telegraph leads on comments by Health Secretary Jeremy Hunt, who said any extra funding for the NHS must be used to lead a "technological revolution" in modern healthcare.
The Mail also splashes with a health story. The newspaper claims two-thirds of health trusts are denying patients life-changing cataract surgery, despite being told to stop rationing the surgery. Health trusts say they cannot afford all procedures.
The newspaper's leader column says that as we "shovel ever more money into this voracious behemoth" - shouldn't we demand fairer treatment for NHS patients wherever they live?
The top story for the Times reports that Britain's 137,000 troops are in line for an above-inflation pay rise. According to the paper, the independent body that assesses military salaries is to recommend a 3% increase in this financial year.
The defence minister, Tobias Ellwood, tells the newspaper that the full-time armed services personnel deserve one.
Meanwhile, the Daily Mirror is demanding medals for a group of UK war veterans who it describes as our "nuclear test heroes". Thousands of soldiers were sent to the South Pacific 60 years ago, where they took part in a huge military operation to prepare for and then witness hydrogen bomb explosions.
The newspaper quotes one surviving veteran as saying they were "the guinea pigs" and nobody knew the risks. The Mirror accuses successive governments of obstructing calls for official recognition.
'No deal' Brexit plans
According to the Financial Times, the government's preparations for a "no deal" Brexit are "virtually non-existent" - meaning it is almost impossible for Theresa May to walk out of negotiations with the EU in the next 10 months.
The paper quotes "people with close knowledge of the situation", including a senior British official working on Brexit, who told the FT: "Our ability to deliver a no-deal outcome recedes with every week that passes".
Downing Street tells the newspaper that the government has committed extensive resources towards planning for leaving the EU, whether there is a deal or not. But the FT says hardline Brexiters believe Mrs May and Chancellor Philip Hammond are conspiring to avoid serious no-deal planning.
The political crisis in Italy is also covered in several papers. Journalist Tom Kington writes in the Times that Italians "are used to holding their breath" when it comes to forming governments - but that Sunday marked a new record. He said 84 days after the election and still no government is "impressive by Italian standards".
Rwanda's Arsenal deal
Meanwhile, Rwanda's President Paul Kagame, is featured in several articles after it was revealed that his country has spent £30m to sponsor football club Arsenal, while receiving more than double that amount in aid money from the UK.
The Daily Mail reports that under the sponsorship deal, Arsenal's players will promote Rwanda's tourist industry. Tory MP Andrew Bridgen called it "absolutely astonishing" while human rights campaigner Rene Mugenzi said the "obscene deal" should be scrapped.
According to the Sun, Mr Kagame joins a "string of controversial followers" of Arsenal - from the Great Train Robber Ronnie Biggs to Al-Qaeda leader Osama bin Laden.
"Rome's new emperor" is the Guardian's description of cyclist Chris Froome after his victory in the Giro d'Italia. The win means he holds all three of the sport's biggest titles at the same time.
But the Mail claims Froome's success is "fraught with caveats", given that he is under investigation for an adverse finding for his asthma medication. The Telegraph asks: "Was this a great race or a tainted one?".
And several papers report on comments made by the historian and BBC documentary presenter David Olusoga, on the controversial issue of returning foreign treasures which were looted and brought to Britain.
The Guardian and the Daily Telegraph report that, during an appearance at the Hay literary festival, he suggested there should be a "special version of Supermarket Sweep where every country would be given a huge shopping trolley and two minutes in the British Museum".