Newspaper headlines: Trump's 'fake schmooze' over trade deal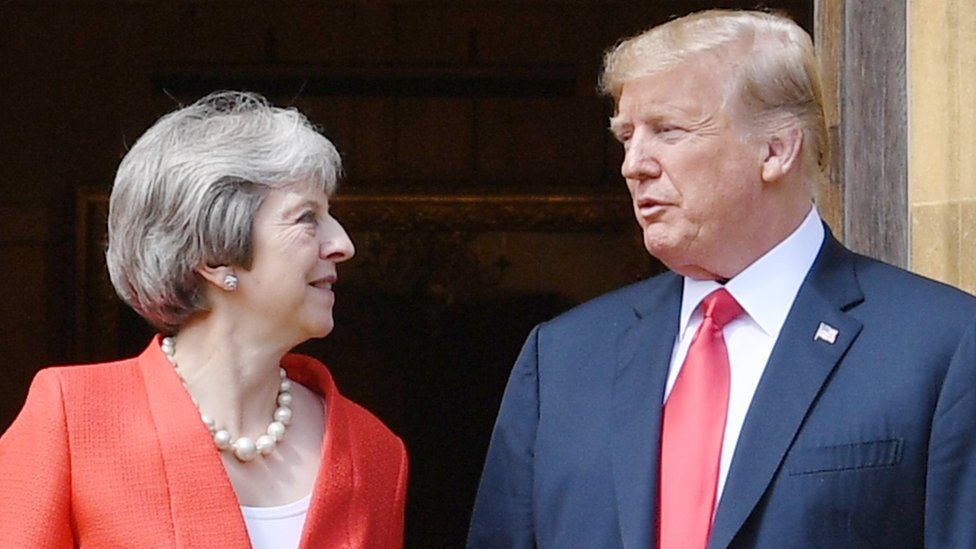 Coverage of President Trump's visit to the UK dominates the morning papers, and the protests it prompted. Many of the papers carry photos of the president, steering Theresa May by the elbow at Chequers.
The Daily Telegraph says it can reveal the advice the president gave for the Brexit negotiations which Theresa May apparently ignored. Mr Trump's former senior aide, Steve Bannon, tells the paper he told her to be "brutal" and to demand far more from Brussels than she'd ever expect to get.
Mr Bannon says the President offered the Prime Minster some ideas from his book, The Art of the Deal, which suggests: "Overshoot your target, be tough and get on with it".
President Trump's visit to Windsor Castle for tea with the Queen - and suggestions that he breached protocol by walking in front of the monarch - featured prominently. The Telegraph shares the president's latest tweet, as imagined by its cartoonist Matt. "Great Visit" he exclaims. "Gave the Queen a few tips on Etiquette".
The Queen rolled out the red carpet, but the president's visit was "soured", the paper complains, by what it calls a rag-tag band of "the usual suspects".
The Daily Mirror devotes its front page to a photo of Mr Trump sitting in Winston Churchill's armchair at Chequers. Under the headline, "How Dare You", the paper says he "sparked fury" with his "smug" pose, leading some MPs to complain he was not fit to sit there.
Schools across the country are moving to ban the school run, according to the Guardian. The paper says thousands of head teachers plan to discourage parents from using their cars when the new term starts in September. The measures, which include closing roads near schools and setting up "park and stride" schemes, are designed to lessen the impact of air pollution on young people's health.
The Times reports that some of France's most famous chateaux have come together to challenge plans for more prominent health warnings on bottles of wine. The group of 64 leading vineyards and champagne houses say the new stickers - warning women against drinking during pregnancy - would damage "the soul of France" and turn wine into a "criminal product". They're accusing the health ministry of "spreading fear".