Newspaper headlines: 'Second Brexit referendum needed'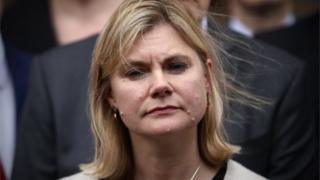 Justine Greening's call in the Times for a second EU referendum is described by the paper as "a huge blow" to Theresa May's hopes of winning support for her Brexit compromise.
The Sun focuses on the resignations and rebellions in the Tory ranks and says Mrs May's allies are engaged in a frantic bid to shore up her leadership. The paper tells Tory pro-Brexit rebels it shares their frustration but warns them they are "playing with fire".
The Daily Telegraph says Theresa May is "in a fight to preserve her premiership".
The Daily Express wishes the prime minister well and adds she has been repeatedly and mistakenly written off, yet lives on to fight another day.
President Trump's description of the European Union as a "foe" is, according to the Guardian, "another extraordinary diplomatic intervention" in "a controversial tour which has turned post-war western relations inside out".
The Daily Mirror calls him "Don the Devil" and bids the president "Goodbye and good riddance". There's an air of foreboding in some quarters ahead of his Helsinki meeting with President Putin.
The Financial Times says the Russian leader must have watched his US counterpart's destructive progress through Brussels and London last week with his trademark mirthless smirk.
The Daily Telegraph reserves its criticism for Mr Putin. It is surprised that Mr Trump is prepared to sup with him, and advises him to carry a very long spoon.
The lead in the Daily Mail says a survey suggests a majority of the public believe the police have "lost control of the streets". The paper talks of "skyrocketing levels of crime" with a quarter saying they don't feel safe in their local area at night. A major factor, apparently, is a lack of "bobbies on the beat". In an editorial, the paper says offenders are "utterly unafraid of the justice system" and regrettably, there is no sign that ministers have woken up to this growing menace.
Get news from the BBC in your inbox, each weekday morning
There are many pictures of the French celebrating their football prowess. The Times shows President Macron leaping to his feet and punching the air while watching the World Cup final at the Luzhniki Stadium in Moscow.
The Sun devotes its front page to a picture of the England football squad after its low key return to Birmingham. "England's young lions come home," the paper says, "with their pride intact". It also has a tiny picture in the bottom left-hand corner of the French team celebrating, telling readers: "by the way, this lot won."