Newspaper headlines: Manchester bomber was 'rescued by Royal Navy'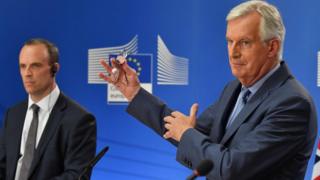 The Times says Britain has warned of a tit for tat approach in its discussions with Brussels about rules for the City of London after Brexit.
It reports the UK has told Brussels that thousands of European investment funds will be under threat, if there is no special trade deal for financial services.
A government source tells the paper it was not intended as a threat, but the paper says the tactic is resonating across Europe with member states indicating they want to soften the Commission's stance.
The Guardian reports the UK has decided to up the ante because of frustration with what is seen as the dogmatic approach of the EU's chief negotiator, Michel Barnier.
The Financial Times adds Mr Barnier has warmed to Theresa May's Brexit plan for financial services - but only after it was clarified that Brussels would ultimately control the City's access to EU markets.
There is a broad welcome for Monday's Supreme Court judgement that courts will no longer need to rule on removing food and water from an unconscious patient, where doctors and the patient's family agree.
The Independent calls it a "brave and clear" decision, which moves the law on.
The Guardian's editorial says arguments that this is a "slippery slope" have some force, but that "this judgement comes with crampons".
Times columnist Melanie Phillips is concerned about the slope, and a lack of safeguards, saying a cash-strapped hospital might well pressure a distressed family to agree to doctors' wishes, to avoid the length and trauma of a court case.
"It doesn't take much", she says, "to imagine a court ruling somewhere down the line, that the family's wishes should count for little or nothing at all."
Get news from the BBC in your inbox, each weekday morning
The Daily Telegraph says one of the Big Six energy firms has admitted, for the first time, that smart meters will lead to energy prices increasing at peak times.
The head of Scottish Power has said that the price could soon fluctuate every half an hour, describing that as a "longer term benefit" of the roll-out of the meters.
The Telegraph criticises the project to install the meters as a familiar tale of "eye-watering expense and botched decision-making" - and it urges government to finally change its culture of resisting expert advice.