Newspaper headlines: Palace 'bust-up' and rail fares increase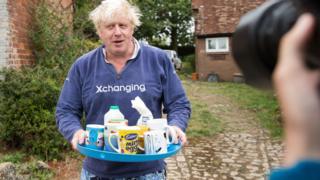 Boris Johnson and the burka row continue to feature in many of the papers.
The Guardian reports that Britain's largest Islamic organisation will write to Theresa May on Monday, demanding that Mr Johnson be subject to a full disciplinary inquiry.
The Muslim Council of Britain says Islamophobic incidents have risen since his controversial newspaper column a week ago.
Meanwhile, the former foreign secretary is pictured wearing blue flowery shorts and carrying a tea tray on the front of the Daily Express.
The newspaper asks if the burka row is "a storm in a tea cup for Boris" after Mr Johnson offered hot drinks to journalists but wouldn't answer their questions.
The Daily Telegraph leads on Mr Johnson's latest article for the paper in which he calls on the prime minister to slash what he calls "absurdly high" stamp duty and to build more houses.
He calls the housing market a "disgrace" and warns of an impending crisis of confidence in capitalism if the government cannot help young people buy a home.
And as the Telegraph itself points out, Mr Johnson makes no mention of the previous row he provoked.
The Sun and the Daily Mirror lead on what they respectively call a "Royal crisis" and a "New palace bust-up" involving the family of Meghan Markle.
The Sun reports a claim from Thomas Markle that he fears his daughter will never see him or speak to him again, after he gave a series of interview about her. He tells the paper she didn't send him a birthday card last month, but he still wishes her good luck.
The Mirror reports that other family members have branded Megan "cruel and inhumane" over the alleged snub of her dad.
"Munich massacre widows rage at Corbyn" is the Daily Mail headline. It carries a picture of the Labour leader at a cemetery in Tunisia, and says there are more questions for him to answer about why he visited graves linked to terrorists who carried out an attack on the Munich Olympics in 1972.
The paper's editorial calls the picture, taken four years ago, "a new low" and makes it clear it has doubts about his official explanation for being there.
Labour has insisted Mr Corbyn was remembering victims of an Israeli air strike on a Palestine Liberation Organisation base in 1985.
Moss Side shooting
Many of the papers carry pictures of police officers and forensic teams in Manchester combing the street after 10 people were hurt in what the Daily Mirror calls a "gun rampage".
The Daily Express shows a large number of laughing gas canisters used by people who'd been enjoying a carnival and street party in Moss Side. The newspaper suggests the shooting was carried out by "a maniac showing off with a sawn-off shotgun" .
The Sun's headline describes it as "wild west UK".
Get news from the BBC in your inbox, each weekday morning
The number of women who smoke during pregnancy has gone up for the first time on record, according to the Daily Mirror.
It reports figures from NHS Digital which show a slight rise in the average number of smokers to 10.8%, with Lancashire ranking as the worst area where more than 16% of mums-to-be enjoy a cigarette.
Labour and some health charities say they blame cuts to stop smoking services. The government says it is "determined" to bring rates of smoking in pregnancy to 6% by 2022.
And the Sun features the strange case of a man who could not draw until he woke up from a stroke with a talent for painting.
The story says repairman Wayne Sheppard, 47, woke up with a compulsion to draw and now spends several hours a day creating quirky works of art.
The newspaper has printed some examples of his work including multi-coloured images of David Bowie and Bob Marley.
He says he has sold his art at markets around London for up to £400 each.