Newspaper headlines: Johnson's Brexit 'jibes' and 'dirty dossier'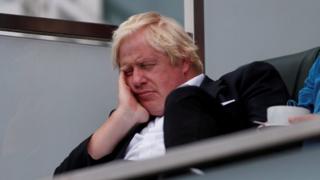 Boris Johnson is again a recurring subject in the Sunday papers.
The Mail on Sunday leads with what it describes as a "blistering" article, in which the former foreign secretary attacks Theresa May's handling of Brexit.
The paper finds something "very refreshing" about his direct language after what it calls the "snail-like, slow dance" of the Brussels negotiations.
But it also praises Mrs May's "admirable coolness and persistence" and suggests that Mr Johnson's "robust and graphic" language may actually be helpful to her - letting the EU's negotiators know she is under at least as much pressure from firm Brexiteers as she is from Brussels.
The lead in the Sunday Times claims the Conservative Party is at war over a dossier on Mr Johnson's sex life, drawn up by aides to Theresa May to prevent him becoming prime minister.
It is said to have been compiled during his bid for the leadership in 2016.
Downing Street and Conservative HQ deny adding to it since, or distributing it.
According to the Observer, friends of the former foreign secretary have rallied round him, insisting news of his divorce and stories about his personal life would do nothing to damage his chances of succeeding Mrs May after Brexit.
'Be prepared'
International Development Secretary Penny Mordaunt writes on the Conservative Home website that the public have lost trust in their leaders, with politicians failing to "read" and "lead" those they serve.
Politics and how we govern need to change she argues.
Ms Mordaunt lists a number of tips for politicians and leaders, including, "be optimistic", "get on with it", and "be prepared".
And Whitehall, she says, needs to shrink.
The Sunday Telegraph describes the article as a "fiery polemic" and notes that Tory activists posting comments interpreted it as Ms Mordaunt setting out her stall for the leadership.
The Sunday Mirror says 60 Ministry of Defence laptops went missing last year, sparking fears that highly sensitive secrets might be for sale on the dark web.
A total of 45 memory sticks and four desktop computers are also said to have vanished.
The MoD tells the paper that it has millions of items right across the world and, while it is impossible to stop all losses, all incidents are fully investigated.
'Political shockwaves'
The Observer leads with what it calls a "bombshell" poll, suggesting members of Britain's three biggest unions - Unite, Unison and the GMB - now support a second Brexit vote by a margin of two-to-one.
It believes the survey will "cause political shockwaves on the eve of the party conference season".
The shadow chancellor, John McDonnell, tells the paper his preferred option is for voters to be given a say on any deal in a general election.
He says he believes the government will almost certainly fall apart within the next six months.
However, he is keeping all options open, including supporting a new referendum.
Justice Secretary David Gauke has told the Sunday Telegraph that he believes as many prisoners as possible should be given phones in their cells.
He calls the idea "a real game-changer" in improving behaviour and helping with rehabilitation.
Inmates would be able to dial only pre-approved numbers and would still have to pay for the calls.
The paper says Mr Gauke's comments are likely to draw sharp reaction from prison officers, whose representative body insists prisoners already enjoy a "first class" array of benefits.
They may also be opposed by some victims, it says.
Russian targets
A former KGB agent who fled to Britain in 1998 tells the Sunday Express he was ordered by Moscow to murder dissidents using the same method as the Salisbury attack on Sergei Skripal.
Boris Karpichov says he was told to kill two targets by smearing poison on their door handle.
According to the Sunday Mirror, four more Russian suspects are yet to be named in the investigation into the Salisbury attack - in addition to the two whose pictures were released during the week.
Security sources have apparently said that there were six people in an assassination squad, codenamed "The Cleaners".
The Observer reports that rich Russians living in the UK face a visa crackdown because of the poisonings.
The right of more than 700 wealthy Russians to remain is said to be under review.
'Barista bandits'
Finally, the Mail on Sunday complains that while coffee bean prices have fallen to their lowest level for seven years, the cost of a high street cappuccino has risen by up to 20%.
It accuses the big coffee chains of being "Barista bandits".
But they tell the paper that many factors, apart from the beans, affect the price of a cup of coffee.
Get news from the BBC in your inbox, each weekday morning