Newspaper headlines: Baroness Altmann 'drawn into Green scandal'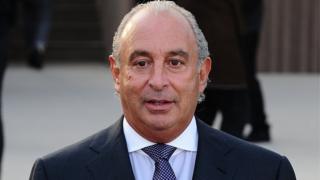 Sir Philip Green remains the focus of considerable attention across the national newspapers.
The Conservative peer and former pensions minister Baroness Altmann has written articles for both the Daily Telegraph and Daily Mail, claiming she was "bullied and intimidated" by Sir Philip when he was being investigated by the regulator over the BHS pensions scandal.
The Guardian says it's been told by an insider at his company that several people were given "enormous seven-figure secret payouts" to settle claims of harassment.
Sir Philip has denied any illegal conduct.
The Times highlights attacks on Lord Hain for naming the businessman in Parliament, after it emerged that he is a paid adviser to the law firm, Gordon Dadds - which is employed by the Telegraph to oppose Sir Philip's injunction against the paper.
It says Lord Hain insists his action was taken in a personal capacity, and that he was completely unaware Gordon Dadds were advising the Telegraph.
Get news from the BBC in your inbox, each weekday morning
There's a warm welcome for the news that business rates for small companies are to be cut in the budget on Monday.
The Daily Mail and Daily Mirror both see it as a victory for campaigns they've run to save the High Street, providing £1.5bn boost for what the Mirror calls "our dying town centres".
It's the lead in the i which says retail chiefs have warned that more needs to be done to tackle the crisis on the high streets.
The Sun agrees - it says business rates relief is just a "sticking plaster", and the system needs "root and branch reform".
The Daily Express hopes "the chancellor's injection of cash will bring our high streets back to vigorous health" and won't be a case of "too little, too late".
It also tells shopkeepers they need to do more to make their premises attractive, as many are "drab and soulless with unhelpful staff".
A number of councils across Britain are refusing to accept cash or cheques for taxes and fines, according to the Daily Mail. They say they can no longer afford the cost of running a cashier's office, or the bank charges for processing payments, and therefore require all payments to be made online.
The paper describes this as "offensive" to people who simply want to settle their bills.
Finally, the Guardian reports what it describes as "one of the most unusual estate agents listings ever posted".
For £7m the buyer gets Britain's last feudal village, Laxton in Nottinghamshire, which dates from 1066. It comes complete with seventeen working farms, ten cottages, a pub and the title Lord of the Manor.