Newspaper headlines: 'Tricks and treats' in Budget
The Budget is the main story on many of the front pages, with coverage taking up many of the inside pages too.
The Metro says it was a Halloween Budget of tricks and treats. For the Sun however, there were no tricks, just treats. "Nice one Chancellor," the paper declares.
In the words of the Times, it was a crowd-pleaser of a Budget, with something for everyone. Philip Hammond jettisoned any claim he had to prudence, it says.
The Daily Express describes it as a blockbuster Budget. The Guardian found it an unexpectedly generous package in which the chancellor sought to reassure voters and shore up the morale of the fractious Tory MPs whom Theresa May needs to back her Brexit deal.
According to the Telegraph, the biggest giveaway Budget of recent times represented a genuine change of direction, a final rupture with the George Osborne years.
The paper's commentator, Allister Heath, says gone is the idea that the Treasury's priority is to balance the books. It seems there is, after all, a magic money tree, and Mr Hammond has discovered its existence even on Planet Tory, he adds.
The Mail says Mr Hammond unveiled a spending spree in a bid to end austerity and prepare the UK for life after Brexit.
For the Mirror, the Budget was a great con job. "Is that it?" its headline asks. The paper complains that the £400m for schools in England won't be enough to pay for even one teaching assistant per school. It adds that there was nothing to fight record crime levels - but there was another big tax cut for the richest.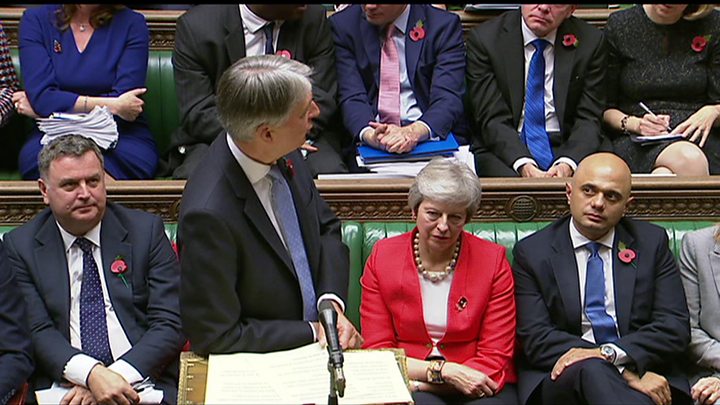 Finally, if the papers are divided about the impact of the Budget, there's no dispute over Philip Hammond's jokes - they were terrible. The Sun says his "dad" jokes had MPs cringing. Macer Hall, in his political sketch in the Express, says his attempts to lighten the load with a few gags failed to tickle MPs and triggered audible groans around the Commons chamber.
For the Financial Times, the chancellor delivered his jokes with all the aplomb of a heavily-sedated undertaker. According to the Guardian's John Crace, they fell stone dead.
Get news from the BBC in your inbox, each weekday morning
The Guardian says English Heritage has admitted that not enough women from history are celebrated with commemorative blue plaques.
The paper reports that only 14% of the more than 900 blue plaques in London are dedicated to women.
They include the computing pioneer, Ada Lovelace, the DNA scientist, Rosalind Franklin, and the first woman to sit in Parliament, Nancy Astor.
English Heritage tells the paper it's seeking the public's help to nominate more women, especially in the areas of science, sport and fine arts.