Newspaper headlines: Arron Banks probe and 'Cameron return'
By BBC News
Staff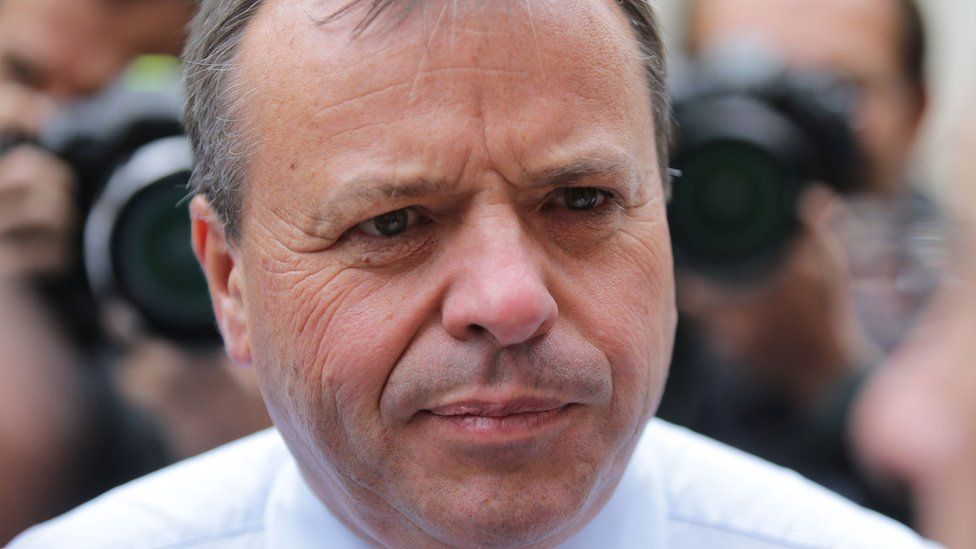 Pictures of the millionaire Brexit supporter Arron Banks feature on several of the front pages following the announcement that he is being investigated for "suspected criminal offences" linked to campaign funding in the run-up to the 2016 referendum.
"The only legal certainty in all of this", he says, is that the UK is leaving the European Union next March. "The likelihood that these proceedings will be resolved by then is non-existent."
The paper describes her resignation letter to the prime minister as "blistering", suggesting the government would have "blood on its hands" if problem gamblers lost their lives as a result of the delays.
"Questions will be asked about how this political banana skin wasn't spotted lurking on the floor", it says, "though maybe the government will simply gird its collective loins, and press on".
Research by an asset management firm blamed a combination of soaring costs and growing competition from online retailers like Amazon. Ageing malls in smaller towns were most at risk.
Muhammad Saqib Raza left the UK in 2016 for Turkey, where he was hired for medical work he thought "would look good" on his CV. That led him to Syria, where he spent more than 18 months in IS captivity.
"I am a naïve person", he says, insisting he was the victim of "an elaborate kidnap plot".
He acknowledges parts of his story "don't make sense", but asks the British authorities to repatriate him so he can stand trial here.
"I never knew Britain might one day abandon me", he goes on. "Everyone deserves a second chance".
It says the animal, called Saba, squeezed through a fence at the Howletts wild animal park into a neighbouring enclosure, frightening two deer who died after stampeding into wooden railings.
The zoo said it was not required to report the incident, as the cheetah did not enter a public area.
The local council is investigating.
An anonymous friend of the former prime minister says boredom has set in - two years after he left Downing Street to write his memoirs - and that he would consider rejoining the Cabinet, preferably as foreign secretary, if a future Conservative leader offered him a job.
That would require Mr Cameron to rejoin Parliament - either as an MP or peer. But there's plenty of time, says the friend as "he's only 52 and still a young man".