Newspaper headlines: Rivals line up to oust Theresa May?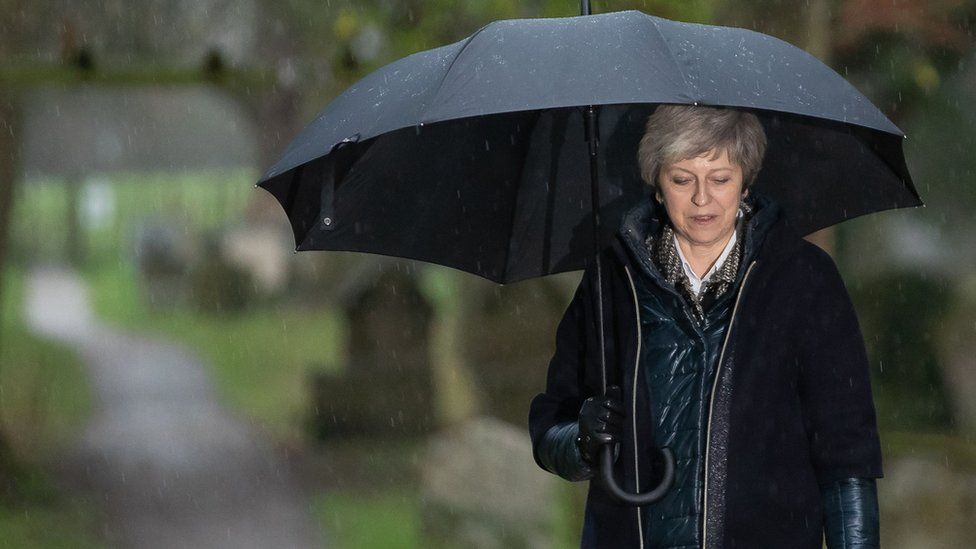 On many of the front pages there is a photo of Theresa May sheltering under a black umbrella during a downpour.
"End of May's reign", says the Daily Mirror, with several papers suggesting the outlook for her is bleak.
"Tory rivals line up to oust May", is the i's headline.
The minister compares her to the Charles Dickens character Wilkins Micawber, who was forever insisting that "something will turn up".
And there is no shortage of advice for the PM.
The Sun and Mail both want to see the vote postponed with Mrs May returning to Brussels to extract further concessions.
"The more the arguments shift," he writes, "the crazier Brexit seems as Britain chucks away its hefty rebate" and "exclusion" from the Euro.
According to the Sun, a former chauffeur to the Queen died last week just as he was about to be charged with sexually abusing two young boys in the 1970s. The paper says Buckingham Palace has not commented.
The east-west London railway was due to open this week, but the start date has been postponed until autumn next year and there are growing fears it could be pushed back even further.
The FT reports that station construction has fallen behind schedule - prompting growing panic among executives at Transport for London.
According to the Daily Mail, drug driving has reached a record level in the UK - with an average of 37 motorists a day failing tests for banned substances.
During a month-long operation in the summer, more than half of about 2,000 drivers pulled over by police tested positive for drugs.
The paper says the latest figures are "deeply shocking" - especially as the problem leads to more than 300 deaths and serious injuries every year. It believes the findings will strengthen arguments against any further moves to legalise cannabis.
The Guardian reports that homeless charities have been forced to turn away thousands of volunteers who wanted to help out during the festive period - saying they have been overwhelmed by the numbers who were keen to carry out tasks such as serving Christmas lunch.
The paper says reports of increasing homelessness has led to wider public awareness.
One volunteering boss suggests people should instead help when charities are less well-staffed - "A cold February evening at a night shelter isn't on people's minds because they've done Christmas", she concludes.