Newspaper headlines: 'Over to EU' and 'Theresa's triumph'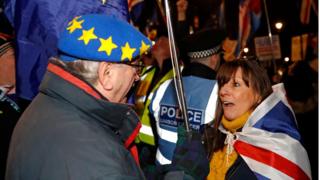 Developments in Parliament yesterday dominate most of this morning's newspapers.
The Times says the prime minister has succeeded in uniting the Conservative Party after getting MPs to back her plan to reopen the Brexit negotiations.
In its leader, it says if Brussels wants to avoid a no-deal Brexit, it needs to recognise that its best chance of securing a deal lies with Theresa May and it should, therefore, make the necessary concessions.
The Daily Express says the government secured "one of the most remarkable turnarounds in political history" last night and says Mrs May "snatched victory from the jaws of defeat".
It's a different view in the Guardian, which recognises what it calls the PM's "triumph" but says it's difficult to see how she'll deliver on her Parliamentary success.
It says she's "hitched a lift on a Brexiteer flight of fantasy" and has raised expectations that cannot be met.
The Daily Telegraph's Europe editor, Peter Foster, sounds a similarly cautious tone.
He says EU leaders are unlikely to offer concessions because they don't believe any changes would gain the support of enough MPs.
We can expect Europe to "sit on its hands", he says, until discussions can begin about a softer Brexit - which he thinks does carry a true majority in the Commons.
The latest Brexit developments receive wide coverage in the European papers.
In its leader, the Irish Times warns that what it calls Mrs May's "volte face" on the Irish backstop means we could be heading ever close to a no-deal scenario. It says it is "deeply worrying" that MPs have voted for an "alternative" to the backstop, without providing details of what that might be.
El Pais in Spain says Brussels is reluctant to renegotiate but, the paper claims, the EU is "trembling" at the prospect of a no-deal Brexit. It says it is now evident there are nerves in Brussels and wonders how Europe will respond as the 29 March deadline approaches.
The French newspaper, Le Monde, says Mrs May has decided to risk a "major confrontation" with the EU and accuses the prime minister of a "spectacular flip flop" on the issue.
But the German broadsheet, Die Welt, says yesterday's events mean it's no longer just London that's under pressure but Brussels too.
It says Mrs May's Commons victory means that if European leaders don't budge on the Irish backstop - they will now be jointly responsible for what it calls the "political failure" of a no-deal Brexit.
Get news from the BBC in your inbox, each weekday morning
Away from Brexit, and the Daily Mail reports on the three-month prison sentence handed to the MP for Peterborough, Fiona Onasanya, after she was convicted of lying to police about a speeding ticket.
The paper says both Labour and the Conservatives have called for the MP to resign.
The positive effects of waking up early are highlighted in a study that features in the Guardian.
It shows that natural early risers are less likely to develop mental health problems and are more likely to report feeling happier.
So-called "night owls" are more susceptible to conditions such as depression and schizophrenia, although scientists are still trying to work out why.