Newspaper headlines: 'Splitting headache' for Corbyn over resignations
By BBC News
Staff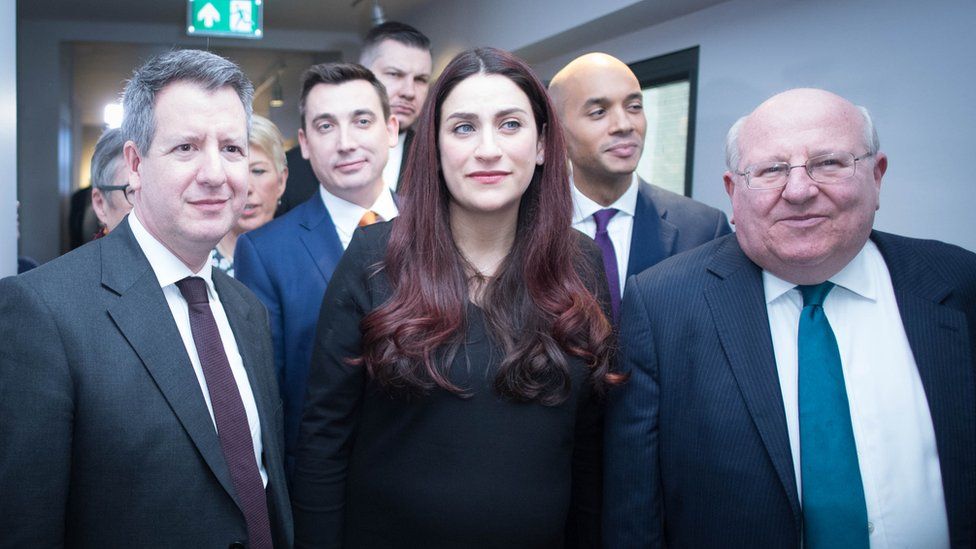 There's sympathy and frustration in equal measure from colleagues of the seven Labour MPs who resigned on Monday.
"It's had spiderly lines etched through it for some time", she says, "and now a dirty great fissure has opened up in the spout".
Another Labour backbencher, Chris Bryant, is equally concerned, but thinks it's better to try to reform the party from within.
"I prefer big tents when it comes to politics", he tells the New Statesman. "You need a crowd to move a mountain and a movement to change the political weather."
One of the rebels, Chuka Umunna, doesn't see it that way. Labour "can't be the change", he writes in the i, "because they have become the problem".
What chance then of the breakaway group becoming a meaningful force in British politics?
The early signs are encouraging, according to the Daily Mail - which claims the group would win a bigger share of the vote than the Lib Dems if they contest the next general election as a national party.
The Mirror thinks there is no time to waste. "If they believed in democracy and were confident voters are behind them", it argues, "all seven would trigger by-elections".
Away from Labour, the Financial Times reports that three universities in England have bowed to pressure to reduce the pay awarded to their vice-chancellors.
Last week, the Office for Students - which regulates higher education - revealed that nearly half of all university leaders were paid a basic salary of at least £300,000.
Bath's new vice-chancellor, Ian White, will earn £266,000 - considerably less than his predecessor, Glynis Breakwell, who resigned amid protests about her pay packet. Southampton and the Open University have made similar commitments.
The British study - which looked at data from 100,000 people in 38 countries - concludes that teenagers pay little attention to the law when deciding whether to take the drug.
Prof Alex Stevens, who led the project, tells the paper he hopes governments will find the results "useful as they consider the best way to deal with cannabis".
And the Telegraph mourns the demise of the free cash machine. It says Burslem - a suburb of Stoke-on-Trent - has become the first large town in Britain without any free cash machines, after several local banks closed.
Residents who want to access their money without paying a fee now face a drive of several miles - a situation described by the local MP, Ruth Smeeth, as "completely unacceptable".
The Treasury says it's looking at ways of protecting "those who are vulnerable and harder to serve".