Newspaper headlines: Fatal stabbing, gag orders and Brexiteer 'tests'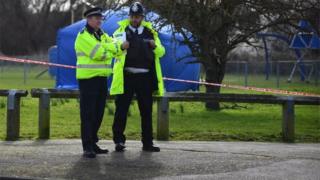 Most of the front pages have pictures of Jodie Chesney, the 17-year-old girl stabbed to death in east London.
Her murder is the main story for the Mail on Sunday, the Sunday Express and the Sun on Sunday.
"Knifed in the back and left to die", is the headline in the Sunday Express.
It describes Jodie as a model student and a Scout with a bright future.
The Mail on Sunday reports that she was attacked as she sat on a park bench with her boyfriend.
Detectives are understood to be bewildered by any possible motive for the killing and are hunting two men seen fleeing the area, the paper adds.
There are pictures of Jodie posing in her Scout uniform outside 10 Downing Street on Remembrance Sunday last year.
Later the same day, the Sun on Sunday reports, she lined the walkway of the Chelsea Pensioners as they came on stage at the Royal Albert Hall for the Festival of Remembrance broadcast on BBC One.
The Sunday Telegraph leads on government plans to ban employers from drawing up gagging orders that prevent staff reporting allegations of illegal harassment and discrimination to the police.
It says the move comes after the retail tycoon, Sir Philip Green, used non-disclosure agreements to silence and pay off at least five members of staff who accused him of sexual harassment and racism.
The paper, which campaigned for a change in the law, welcomes the review but says the misuse of the agreements should be a criminal offence rather than put into civil law.
The Observer says it has seen internal emails showing that members of Labour's high command opposed recommendations to suspend several party activists accused of anti-Semitism.
It says the correspondence, dating from March to May last year, covers a period immediately after Jeremy Corbyn vowed to have "zero tolerance for anti-Semites".
A party source tells the paper the cases were a hangover from the previous process, which the general secretary, Jennie Formby, overhauled when she took up her post.
According to the Sunday People's main story, violent "county lines" gangs - who move heroin and crack cocaine from cities to provincial towns - are forcing vulnerable children to pose as drivers of takeaway delivery meals while pushing drugs.
A children's charity tells the paper that the gangs, who manage their networks using mobile phone hotlines, are stealing drivers' bags and branded clothing so they look like delivery drivers when they go around on mopeds.
Finally, the Sunday Telegraph reports that one of the UK's biggest cinema chains, Cineworld, has suspended the free passes enjoyed by Bafta members in protest at the awards given to the Netflix film, Roma.
The film was released on the online streaming service, rather than distributed generally to cinemas, and won seven awards at last month's Bafta ceremony.