Newspaper headlines: 'Inspired' by Greta and 'no room' for Trump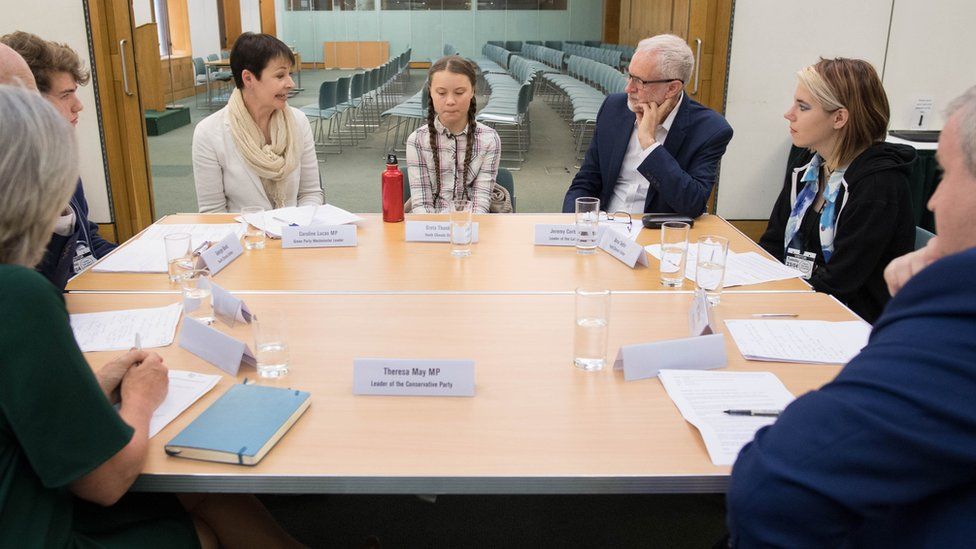 Greta Thunberg, the 16 year-old Swedish climate change campaigner, gets plenty of headlines in the newspapers.
The Times says her speech to politicians at Westminster has inspired Britain to act on climate change.
The paper says she made the Environment secretary, Michael Gove, feel guilty about his generation's failure to address the problem.
The Metro sums up Mr Gove's response as "Greta, We Hear You".
The Guardian's editorial says nobody could have predicted that a Swedish teenager would shift the global climate debate in the way she has, since beginning her schools strike in Stockholm.
It argues that "Greta is in the process of doing humanity a huge favour".
In other news, there's plenty of discussion about the proposed state visit to the UK by Donald Trump.
The i is one of those to report that the Commons Speaker, John Bercow, is under growing pressure to allow the US president to address Parliament when he arrives in June.
Mr Bercow's counterpart in the Lords, Lord Fowler, is leading the calls as the visit will also mark the 75th anniversary of the D-Day landings.
The Daily Mirror says Mr Trump won't be staying with the Queen at Buckingham Palace during his visit.
The paper quotes "royal sources" as saying there is no room for the presidential entourage because of major renovation work.
The Daily Telegraph, meanwhile, reports that Virgin Trains wants to end standing on long train journeys, by forcing passengers to book seats before boarding.
Currently, service operators are often obliged to accept anyone with a ticket - meaning they have no control over the numbers on board unless it's deemed unsafe.
The paper says under Virgin's plans, there will be only one fare available for any given service, and walk-on and open returns will be phased out.
According to The Sun there's "outrage" that "fat cat oil giants" have "fleeced" motorists out of around £200 each since 2015.
Its figures are from the campaign group Fair Fuel Uk, which says falls in wholesale oil prices haven't been passed on at the pumps.