Newspaper headlines: Cocaine puns and Boris Johnson's income tax pledge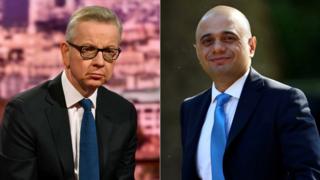 Most of the front pages are devoted to the Conservative party leadership contest.
The Metro says eight of the 11 candidates have now admitted to using drugs in the past. The i talks of Michael Gove fighting back after his admission that he took cocaine, and of his key supporters remaining loyal.
The Times believes he is fighting to save his campaign, while the Guardian suggests it is hanging in the balance.
The Daily Mail feels Amber Rudd's decision to back Foreign Secretary Jeremy Hunt is a blow - but it predicts that Mr Gove will use his campaign launch to insist he is undaunted and ready to lead the country.
The Daily Telegraph acknowledges the environment secretary's honesty - but expresses disappointment that Mr Gove sees what happened as a personal mistake to be erased by the passage of time, and not an opportunity to discuss the the scourge that cocaine use has become.
The Sun praises Home Secretary Sajid Javid for highlighting how the use of cocaine by the middle classes destroys lives. The Daily Mirror takes Mr Gove to task - saying he symbolises the arrogance of a Tory elite who did not practise what they preached, imposing laws they themselves flouted.
City AM focuses on Mr Johnson's threat to withhold the UK's £39bn Brexit divorce bill - saying it had given the City the jitters. Politics Home says he was hit by a backlash, while the Daily Express reports that his warning stunned the EU. An aide of President Emmanuel Macron said failure to pay the money would be a sovereign debt default.
The Financial Times says the prospect of the former foreign secretary succeeding Theresa May alarms Europe, saying some EU officials regard him as unprincipled and cynical - and a dangerous populist.
Sign up for a morning briefing direct to your phone
The Guardian reports on what it calls Mr Johnson's ruthlessly organised campaign, which limits his media appearances to avoid the potential for gaffes. By keeping him out of the public eye, suggests the Mirror, his camp can also avoid him being asked awkward questions about past drug-taking.
The Mail describes it as a "submarine strategy" while the i feels he might have opted for a relatively low profile because he is conscious that the election is his to lose.
The FT focuses on what it calls a gloomy financial outlook for the Scottish government. It reports that the Scottish Fiscal Commission has predicted a fall in economic growth and a £1bn reduction in a block grant from London over three years. The FT thinks the expected cut in the grant presents a budget headache for SNP ministers in Edinburgh.