Newspaper headlines: Boris Johnson to kick off leadership bid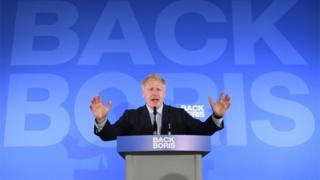 The Times focuses on the long-awaited launch of Boris Johnson's Conservative Party leadership campaign - but says it is likely to be "overshadowed" by today's cross-party attempt to stop a no-deal Brexit.
The Daily Telegraph points out Sir Oliver Letwin - an ally of Mr Johnson's rival, Michael Gove - is lending his support to the plans to block a no deal departure.
The paper says it will bring back memories of the 2016 leadership race, when Mr Gove sabotaged Mr Johnson's hopes on the day he was due to launch his campaign.
The Irish Times covers a report, commissioned by Northern Ireland's Department of Economy, which warns about the impact of a no-deal Brexit on trade on the island of Ireland.
It concludes "just-in time delivery" models will become impossible for some businesses, and "prohibitive" costs will be imposed on others.
Germany's Der Spiegel outlines four problems a no-deal would cause from the EU's perspective - chief among them being that "the trust would be gone."
One analyst suggests that would mean no trade negotiations between the EU and UK for years - with a "devastating impact" on the British economy.
Moving away from politics, the Financial Times reports that Neil Woodford faces the "humiliation" of being kicked off an investment trust that bears his name.
It follows the freezing of another fund run by Mr Woodford - once considered a leading light in the investment community.
"Rage UK" is the headline in the Sun, which reports that the BBC's decision to stop giving free licence fees to most over 75-year-olds has "sparked fury."
It reports that thousands of people have signed a petition calling for the corporation to rethink its position.
The Daily Mail suggests there is a "full-scale rebellion" among pensioners - with "furious viewers" vowing to refuse to make payments or even go to jail in protest.
The Daily Mirror reports that Prince Harry is to continue his mother's work by lending his support to initiatives to clear landmines.
The Duke of Sussex is to visit Angola which - a royal source tells the paper - is "all about wanting to fulfil his mother's legacy."
Carbon emissions from the global energy industry last year rose at the fastest rate in almost a decade, the Guardian reports.
It says extreme weather and surprise swings in global temperatures stoked extra demand for fossil fuels.
Meanwhile, several papers lead on the current extremely wet weather in the UK. "Monsoon Britain" is the Metro's front page headline, as it pictures a car battling through a flash-flood in Kent.
That's insufficiently hyperbolic for the Daily Star, which describes the levels of rainfall as "apocalyptic" - and points out there's more of it to come.
Sign up for a morning briefing direct to your phone