Newspaper headlines: 'Cabinet carnage' as Johnson begins new era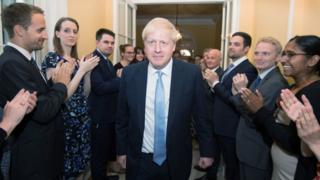 The sense of shock caused by the scale of change in the new cabinet is palpable.
The Times describes Boris Johnson's defenestration of 11 members of Theresa May's top team - another six resigned - as an "afternoon of carnage" and "the most brutal cabinet purge in modern political history".
Recalling that the new prime minister recently said his favourite film moment was the "retribution scene" in The Godfather, the Daily Telegraph calls it a "political massacre" and a "breathtakingly swift transition".
It says he immediately showed his authority by sacking the man he beat, Jeremy Hunt, when he turned down the role of defence secretary.
"Ruthless Johnson takes his revenge" is the headline in the Guardian; it sees the sackings of Mr Hunt, Penny Mordaunt, Liam Fox and Greg Clark as a "merciless purge" of his detractors in Mrs May's cabinet.
The Daily Mail speaks of a "massacre", "Boris's Bloodbath" and the new prime minister coming out "all guns blazing".
The Daily Express says he has stamped his authority with a "historic clear-out" and waved in a "new era".
Striking a similar note, the i's headline is "Brexiteers take over". It is "Boris's Brexit Party" in the online Independent.
The Financial Times reports that he has "ripped apart" the previous team and put in its place a "hardcore" line-up of Brexiteers.
It describes Mr Johnson's speech on Downing Street as "defiant and brutal" - not even mentioning Mrs May by name, while accusing her of indecision.
Get news from the BBC in your inbox, each weekday morning
In his speech, the Times says Mr Johnson dashed hopes that he might soften his negotiating stance on Brexit - issuing a "no ifs or buts" promise to leave the EU at the end of October.
The paper reports that EU officials reacted with dismay. Both it and the FT quote the Irish Prime Minister, Leo Varadkar, rejecting as "totally not in the real world" Mr Johnson's claim that a new deal could be agreed - without the Irish backstop.
According to the Sun, Mr Varadkar was - in effect - accusing the new prime minister of "living in fantasy land"; it says the remarks are likely to enrage Brexiteers.
The paper also quotes EU sources as dismissing Mr Johnson's speech as a "rant".
The Daily Mirror - not Boris Johnson's biggest fan - leads on what it describes as his first gaffe as prime minister: discussing his private chat with the Queen at Buckingham Palace.
The Mirror says he broke protocol by revealing that she had told him: "I don't know why anyone would want the job."
Despite the scale of the cabinet cull, there were survivors. The Sun focuses on one in particular - Larry the cat.
It says No 10 has confirmed that Downing Street's chief mouser - the black and white tabby who moved in with David Cameron in 2011 - will be staying on.