Newspaper headlines: 'Pathetic' travel chaos and Johnson warned by Irish PM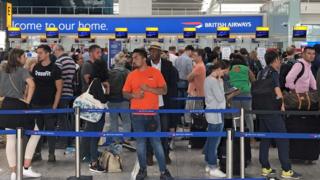 The traditional British summer pastimes of complaining about the weather and the failures of the travel network reach a zenith in the papers today.
The Daily Express says railways and airports suffered chaos because of a "perfect storm" which combined torrential downpours, technical failures, industrial action and the start of the school holidays.
It says trains were delayed as a result of the hot weather and more than 50 flights were cancelled after a glitch at air traffic control.
The Sun calls it "travel torture", with people forced to sleep on airport floors, while for the Daily Mirror it is "misery" and a "big getaway shambles".
The Daily Star calls it "utterly pathetic" - "a little bit of sun, then a splash of rain", it says, "and the whole of Britain falls apart".
Prominent figures from Boris Johnson's new cabinet have been out and about spreading the word about his plans.
Foreign Secretary Dominic Raab tells The Times that Britain will step up trade negotiations with the US and others before the October Brexit deadline.
He says the new government wants to capitalise on President Trump's "warmth" towards the UK, and pave the way for a deal.
The Daily Telegraph features an interview with Jacob Rees-Mogg, the new Leader of the Commons.
He says the only way for his Remainer colleagues to stop Brexit is to revoke Article 50 - and he says they are not "bold" or "daring" enough to try that.
The paper says it's thought that Mr Rees-Mogg was appointed to ward off attempts to take no deal off the table, and that he is now facing down Conservative rebels.
Get news from the BBC in your inbox, each weekday morning
The Guardian says it has analysed the latest crime figures and found that just 1.5% of rape cases last year resulted in a suspect being summonsed or charged - compared with 14% three years ago.
It says the figures highlight an "alarming decline" in rape prosecutions in England and Wales, following rows about the disclosure of evidence. The Guardian editorial says the criminal justice system is failing rape victims, and that they deserve better.
The front page of the Sun reports that neighbours of the Duke and Duchess of Sussex in Windsor have been told not to instigate conversation with the couple - or stroke their dogs.
It says a list of "astonishing commandments" was circulated at a residents' meeting.
Allegedly banned activities include posting anything through the letterbox and asking to see baby Archie.
Buckingham Palace said the royal couple had nothing to do with the briefing, and that it had been a well-intentioned effort to help welcome two new residents.
One local said the briefing would be funny if "it wasn't so over the top" while another added: "Even the Queen doesn't demand this."