Newspaper headlines: 'Wedding picture to make you weep' after PC 'dragged to his death'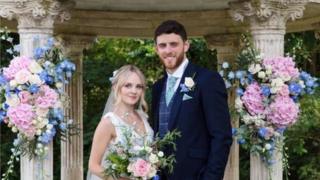 The Daily Express says the death of Constable Andrew Harper will confirm in many people's minds that crime is out of control.
It calls for the murder to represent a turning point - the moment Britain refuses to tolerate the cruelty that is commonplace in towns and cities.
In the Sun's view, the onus now falls on the prime minister and home secretary. "No more talking", it says: "It's time for criminals to know things have changed".
The Telegraph agrees, and says "criminals must learn to fear the police."
The main story for the Daily Telegraph is Ken Clarke's declaration that he's willing to lead an emergency government to prevent a no-deal Brexit.
It reports some Lib Dem opposition to Mr Clarke's suggestion that he would try to renegotiate the deal with the EU rather than call a second referendum.
Meanwhile, citing splits among MPs, the Guardian reports that hopes are fading for an alliance against no-deal.
It says the Mayor of London, Sadiq Khan, has written to the Lib Dem leader, Jo Swinson, arguing that her plan to install a Tory or Labour grandee at the helm of a unity government is not viable.
The Times says Boris Johnson's chief adviser, Dominic Cummings, has asked Whitehall departments to submit a list of achievements to Downing Street to ensure the Conservatives are on an election footing.
He is said to have asked government special advisers to imagine that, in eight weeks, Britain has left the EU and the Tories go on to "smash" Labour at the polls.
The Times casts a critical eye over a proposal to shift the burden of stamp duty on to property sellers, which the Chancellor, Sajid Javid, doesn't rule out in his interview with the paper.
It says the change would be a more radical and progressive move than simply lowering the top rate on the most expensive homes, which Boris Johnson proposed during the Tory leadership election.
But The Times says it would deter homeowners from downsizing.
The Financial Times believes pressure from the Chinese government claimed the scalp of the Cathay Pacific chief executive, Rupert Hogg, who resigned from the Hong Kong airline yesterday.
The FT points out that the change was, unusually, announced by Chinese state-run media, rather than the company, followed an accusation from Beijing that Cathay was undermining safety by allowing staff to join anti-government protests.
According to the Sun, Greggs the baker has halved the size of its custard slices to encourage customers to eat less sugar.
The change hasn't been universally welcomed, with complaints about the taste and the price, which remains at one pound.
The company says it is supporting the Public Health England sugar reduction programme. But one fan of custard slices tells the Sun that "a national favourite has been completely ruined".
Get news from the BBC in your inbox, each weekday morning