Newspaper headlines: 'Secret' no-deal files and Flintoff's 'lucky escape'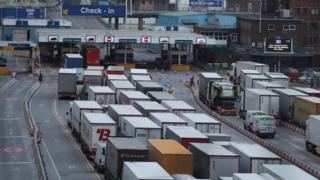 The government's publication of the Yellowhammer contingency plan in the event of a no-deal Brexit makes many of Thursday's headlines.
The Daily Mail says the "secret papers" are "explosive". The Guardian highlights the response of the shadow Brexit secretary Keir Starmer who said it was irresponsible to have tried to ignore the warnings.
Stephen Bush from the New Statesman goes line by line through the document, intepreting its meaning. He suggests the authors feel an exit without agreement in October poses more risks than in March, in part due to the timing of the half-term holiday and in part due to the end of Britain's agricultural season.
The Sun suggests that Michael Gove has deepened the row with Parliament by refusing to provide the government's latest worst case assessment of a no-deal exit from the EU.
On its front page, the Times accuses the prime minister of defying MPs' orders to publish private messages on proroguing Parliament. The demand is reported to have been dismissed as "disproportionate."
Get news from the BBC in your inbox, each weekday morning
The Daily Telegraph is among several papers to suggest that Mr Johnson has offered an "olive branch" to the 21 rebel MPs saying they can appeal against their expulsions from the party.
The paper suggests the Conservative leader could be about to reach a Brexit deal and needs all the Commons support he can get.
And the Scottish court ruling on the suspension of Parliament is the focus of several headlines, with the i declaring: "Queen dragged into 'unlawful' shutdown of Commons". The Daily Mirror boldly claims: "Boris lied to the Queen".
A day after the Brexit Party offered the Conservatives an electoral pact in a front cover advert on the Daily Express, the paper leads with Mr Johnson's refusal to engage in such a deal.
Cancer survival rates
The comparison of UK cancer survival rates with six countries is the front page story for the Daily Mail. The same figures prompt the Daily Mirror to call for more funding for early diagnosis and screening.
And the Sun reports on its front page a "124mph crash" involving Top Gear's Freddie Flintoff. The ex-England cricketer was unhurt and the BBC says the incident was more of a lower-speed "spontaneous detour".
'Potty-mouthed politicians'
Meanwhile, the Times reports on a study suggesting a dramatic increase in the use of profanities by US politicians since President Trump came to power.
PR firm Govpredict says there's been a 10-fold increase in the number of swear words appearing in Congress members' tweets.
The Times notes that that critics of the president have blamed him for coarsening the standard of debate in US politics.