Newspaper headlines: Cameron 'doesn't regret Brexit vote'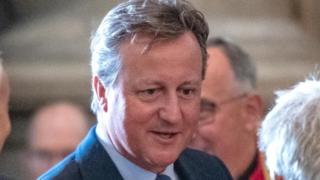 Coverage of David Cameron's memoirs dominates Saturday's newspapers.
"I'm sorry. I failed" is the headline on the front of the Times, which is serialising his book.
In an interview with the paper, the former prime minister says the victory for the Leave campaign - in the referendum he approved - has left him "hugely depressed", and he knows some people will never forgive him.
Mr Cameron says he has had "robust exchanges" with people in the street over the painful consequences of the Brexit vote.
In an editorial in the Daily Telegraph, the paper's associate editor, Camilla Tominey, describes the book as a mixture of "eye-watering candour" and "exasperating understatement".
She believes Mr Cameron's acknowledgement that he "didn't foresee" that a lot of Tories wanted to get out of the EU is a "startling admission".
Ms Tominey adds that the fact he now thinks a second referendum may be necessary suggests he "still cannot accept the original result".
The front page of the Daily Mirror takes a less political angle from the book. It highlights Mr Cameron's confession to smoking cannabis with his wife Samantha, and getting "off his head" while at Eton.
The Financial Times reports that Boris Johnson has plans to fast-track any Brexit deal through Parliament in just 10 days.
It says Number 10 will push for late night and weekend sittings if a deal can be secured at the EU summit in mid-October.
The paper points out that the value of the pound rose amid "growing optimism" that the prime minister had shifted away from a no-deal Brexit to a compromise based largely on predecessor Theresa May's deal.
There is a totally different lead in the Sun, which carries an interview with the woman former England cricketer Geoffrey Boycott was convicted of assaulting.
It has a picture of 67-year-old Margaret Moore on its front page and describes her as "furious" about his newly-awarded knighthood. She tells the paper he does not deserve it and it is "disgusting".
The Guardian has spoken to the French judge who found the former cricketer guilty. Dominique Haumant tells the paper she stands by her decision to convict him and his conduct during the trial was "deplorable". Boycott has always denied the allegations.
Finally, several papers report on the reunion of two former Beatles, to record a "lost" song written by John Lennon the year before his death in 1980.
The Daily Express says Sir Ringo Starr enlisted the help of Sir Paul MCartney for the song called Grow Old with Me.
It explains how Sir Ringo was introduced to the song by a record producer who worked on Lennon's Double Fantasy album.
He says it made him emotional to sing because it brought back memories of his bandmate. The song will be released next month.