Newspaper headlines: Election row and daily painkillers 'help tackle depression'
By BBC News
Staff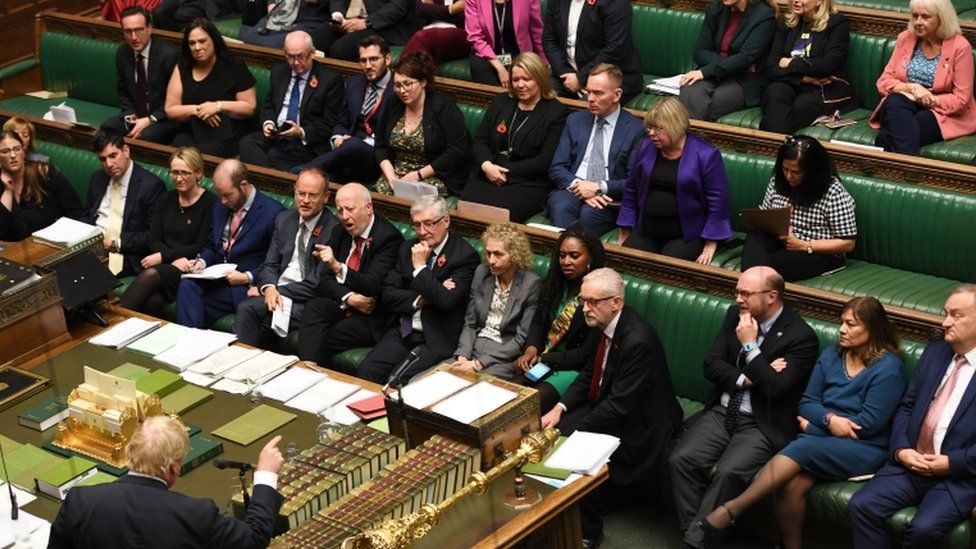 There is extensive analysis of the prime minister's election prospects now that he has failed to take the UK out of the EU by Halloween.
"Boris Johnson may not be dead in a ditch", writes Polly Toynbee in the Guardian, but "he's a host of accidents waiting to happen" on the campaign trail "and so are many of his cabinet zealots".
The Financial Times thinks it is a huge gamble for Mr Johnson to risk Brexit and his premiership on a "highly uncertain election, having failed to meet his main promise and before his legislation has actually been defeated".
The Daily Mail agrees - warning Downing Street there is no guarantee "voters will accept the argument that the failure to come up with the goods should be pinned on a fractious, Remainer-dominated Parliament".
The Sun accepts that an election comes with "considerable risk" for the prime minister, but argues that should be put to one side. "This is simply the worst, most toxic, most inept, most juvenile Parliament of anyone's lifetime", the paper declares in its editorial. "It has to be replaced."
The Daily Express strikes a similar tone, describing the continuing stand-off in the Commons as "insufferable".
Meanwhile the Daily Telegraph accuses the Labour leader of "spluttering out a jumble of increasingly forlorn excuses" for not having an election. "The funny thing is Jeremy Corbyn probably does want one", writes Michael Deacon - "unfortunately, however, his MPs don't."
Another casualty of the Brexit delay is the commemorative coin minted to coincide with 31 October. Bloomberg reports that the order has already been given for thousands of 50p pieces to be melted down. A Treasury spokesman tells the website that new coins will be produced to mark Brexit - whenever it takes place.
A Freedom of Information request also revealed that Philip Burns has been given permission to work one day a week from his home on the Costa del Sol.
The paper points out that while Mr Burns earns more than the Welsh government's own health minister, one of the money-saving measures under consideration is to stop paying nurses for breaks during their 12-and-a-half hour shifts.
In a statement, the Betsi Cadwaladr board says Mr Burns receives the "market rate" for his services, and does not get any travel or accommodation expenses.
Finally, the i reviews what it describes as a "festive fail" - in the form of a mince pie sandwich created by the supermarket chain, Morrisons.
The paper says it is effectively a "jazzed-up cheese and pickle roll" with a spiced chutney-cum-mince pie spread underneath two slices of hard cheddar.
"The flavour is relatively inoffensive at first", writes Josh Barrie, "then all of a sudden, it's like biting into one of those unsold cinnamon candles found in the bargain bin at department stores in January."