Newspaper headlines: UK 'under house arrest' as coronavirus measures 'end freedom'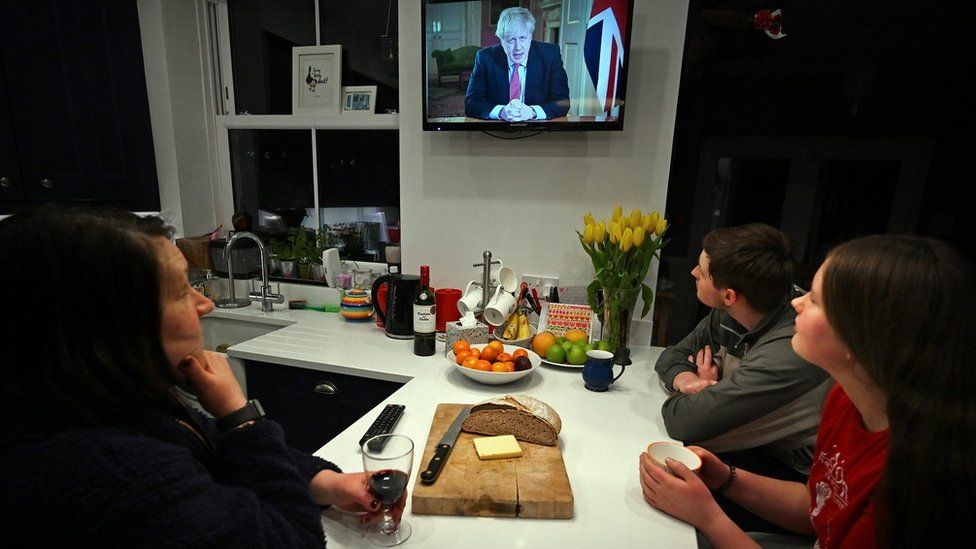 The drastic measures announced by Boris Johnson to tackle coronavirus are reflected in dramatic headlines.
"End of freedom", the Daily Telegraph declares. "Britain shuts up shop", the Daily Mail says. The Sun has a picture of a giant padlock on its front page, with the headline "House arrest". For the Daily Mirror, it's a "national lockdown".
As the Financial Times puts it, the prime minister has been forced to close Britain.
The Guardian says that, after days of being accused of sending mixed messages about what the public should do, Mr Johnson has significantly escalated his language.
The Mail says the move follows fury in government at the failure of sections of the public to follow the guidance on social distancing. According to the paper, the models for containing the virus require social contact to fall by 75% to be effective.
But data from the weekend showed that high street shoppers were down by only 30% - and the number visiting parks was triple that normally seen at this time of year.
While there's widespread support for the measures, there's also a feeling that, as the i puts it, the prime minister dragged his heels.
The Spectator website says the government had not quite understood how many people were going to totally ignore the social distancing advice right up until a ban on leaving the house.
Stephen Glover, writing in the Mail, says it seemed as though every significant new measure had to be wrung from Mr Johnson, and came too late.
At times, Glover says, the natural desire to safeguard our liberties has collided with the advice he has proffered, leaving many of us confused and unsure as to what we were being asked to do.
Michael Deacon - in his sketch for the Telegraph - writes that for the last seven days, Mr Johnson had been politely "advising" the public to stay in and to avoid crowds. But, he adds, no police officer tiptoes up to a gang of criminals and murmurs: "I say chaps, hate to butt in, but would you mind terribly not committing all these murders?"
There is also acknowledgement that, while the instruction to stay at home was necessary, it went against the prime minister's deepest instincts.
Leo McKinstry, writing in the Express, says the imposition of these rules will have been particularly difficult for Mr Johnson, who is an optimistic liberal at heart, with a deep suspicion of the big state. But he had no alternative, given how the disease is raging through our society, he adds.
Many point out the difficulties facing the police in enforcing the new rules.
For the Mail there are questions over how people will prove they are caring for someone, or if they absolutely cannot work from home.
The HuffPostUK website asks: Who will check if a rogue individual walks the dog in the morning and then goes for a run in the evening?