Newspaper headlines: Back-to-school 'chaos' and 'Prem ace's Paris trip'
By BBC News
Staff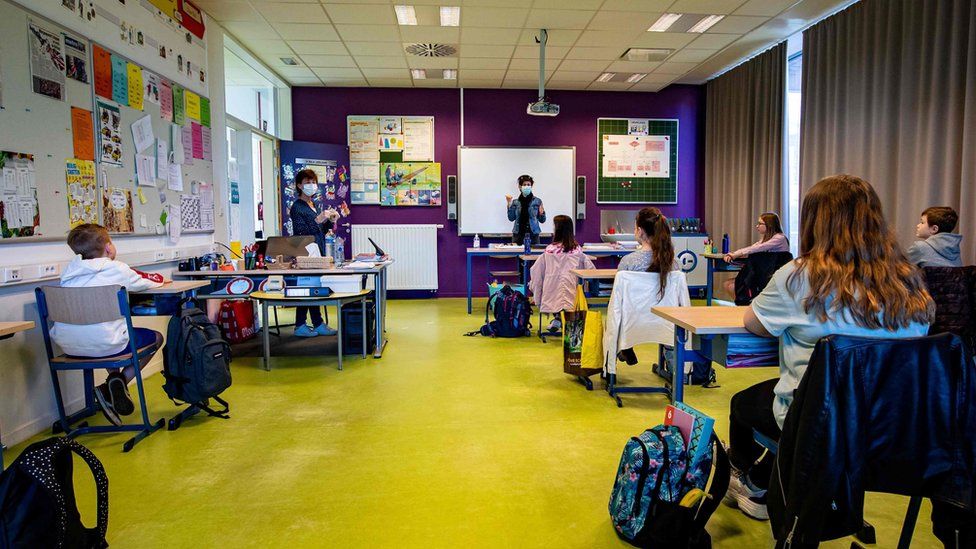 Most of Saturday's papers speculate on the likelihood of schools reopening to more pupils next month.
For the Daily Mirror, the plans are "in chaos" and "on the verge of collapse". The paper says the Labour-run Liverpool City Council is leading a revolt against the government's proposed restart date of 1 June, after ministers and scientific advisers failed to convince unions it was safe to do so during a virtual meeting on Friday.
The Guardian says union leaders were left with "more questions than answers" after the meeting, which some described as "confusing and chaotic" - around 50 people and organisations took part.
The Daily Telegraph says ministers are "incensed" that the biggest teaching union - the National Education Union - is opposed to the school reopening plan.
One government source suggests to the paper the union is putting "ideology" ahead of the interests of children.
In its editorial, the Telegraph urges Labour Leader Sir Keir Starmer to use his influence to change the position of unions and what it describes as the "militants in Liverpool".
The paper says the poorest will be hit hardest if their children are denied proper schooling for months and calls for a "concerted cross-party effort" to end the lockdown and get them back in the classroom.
Writing in the paper, he says hospital admissions for coronavirus have halved since the peak of the pandemic - with just over 9,000 patients being treated each day.
He makes clear "we're not out of the woods yet" but says the NHS will be moving "heaven and earth" to restart services for non-coronavirus patients who need support.
Sir Simon also urges people not to return to the heavy drinking and disorderly behaviour which all too often crippled accident and emergency departments before the crisis.
The paper says the list has always been predominantly a "boy's club", but that 150 women worth more than £120m each have made their mark this year.
The Tetra-pak heiress Kirsten Rausing is named as the richest woman - with an estimated fortune of more than £12bn.
But the "high fives" should be put on hold, the Times says, as it points out the gender pay gap is even more acute among the "mind bogglingly wealthy" than the wider population.
The paper explains that a trial scheme at the Betsey Wynne has seen a one-way system introduced for anyone entering and leaving the pub. Boozers sit at tables two metres apart, separated by perspex screens, and order their food and drink via their mobile phones - having browsed disposable menus.
The pub's owners are to present the ideas to the Cabinet Office - and say they could be ready to reopen properly within three weeks.