Newspaper headlines: Cummings faces fresh claims as PM defends aide
By BBC News
Staff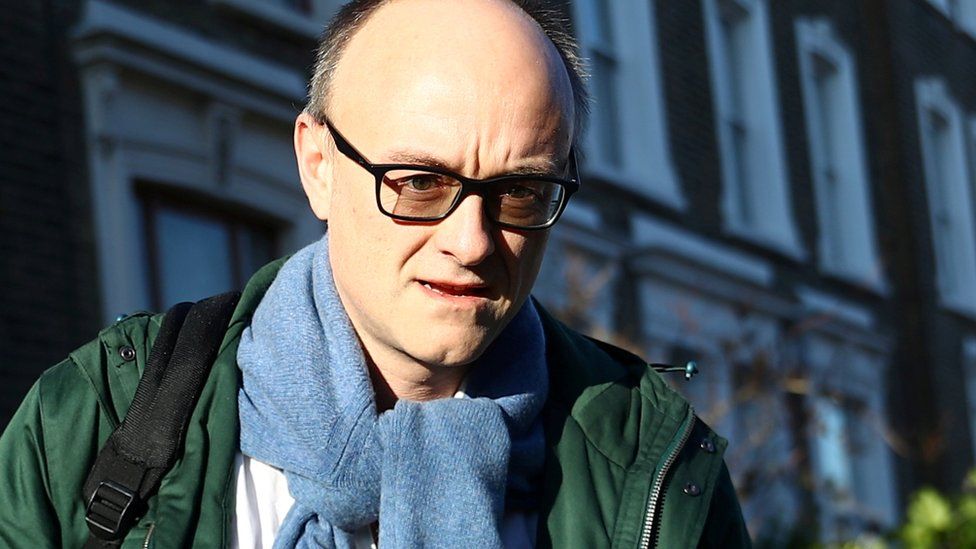 Boris Johnson's embattled chief aide Dominic Cummings is pictured on most of Sunday's front pages.
A witness tells the Sunday Mirror and the Observer they saw Mr Cummings admiring bluebells at a beauty spot in County Durham, days after he returned to London.
Another claims to have spotted the Vote Leave strategist a week earlier, on Easter Sunday, at Barnard Castle, 30 miles from Durham.
The Mirror's editorial calls for Mr Cummings' instant dismissal. Mr Johnson is clinging onto him, the paper says, showing the PM either has no backbone, or cares not one jot for the British people.
All of the papers carry a statement from No 10 that the claims are inaccurate. And Mr Cummings is reported in the Sunday Telegraph as strongly denying he made a second trip to the North East.
The Sun on Sunday has some sympathy for the senior aide, describing him in an editorial as a "sick man doing his best", but adds that he has left the door wide open for No 10's critics.
The Observer strongly criticises the reaction of the Cabinet. In shielding Mr Cummings from criticism, the paper says, ministers have revealed a willingness to undermine public health messaging to save a colleague's job.
Elsewhere, an investigation by the Sunday Times accuses the government of "dithering" before lockdown was introduced, leading to the UK having the highest number of coronavirus deaths in Europe.
Citing a study by modellers from Imperial College London, and Oxford University statisticians, the paper says the number of coronavirus infections across Britain rocketed, from 200,000 to 1.5 million, during the nine days before the lockdown was announced.
The Sunday Times says a public inquiry may come later, but the outline is already becoming clear: slow into lockdown, and slow out of it, with thousands of preventable deaths.
A government spokesman tells the paper its strategy at all times was to protect the NHS and save lives.
The papers says a £50m fund for English councils will help to support High Street businesses by paying for new signs and street markings. The prime minister is putting the country on a path back to normality, according to the paper.
And the Observer describes a "growing revolt" among MPs about plans for them to return to Westminster at the end of the Parliamentary recess.
More than 70 - including the chairs of most select committees - are said to have signed a letter, complaining that plans to ditch remote voting will lead to queues of MPs more than a kilometre long.
But a government source tells the Observer it would be difficult for the government to push for schools to reopen on 1 June if Parliament is not prepared to set an example.