Newspaper headlines: Relaxed Covid rules and Black Lives Matter march
By BBC News
Staff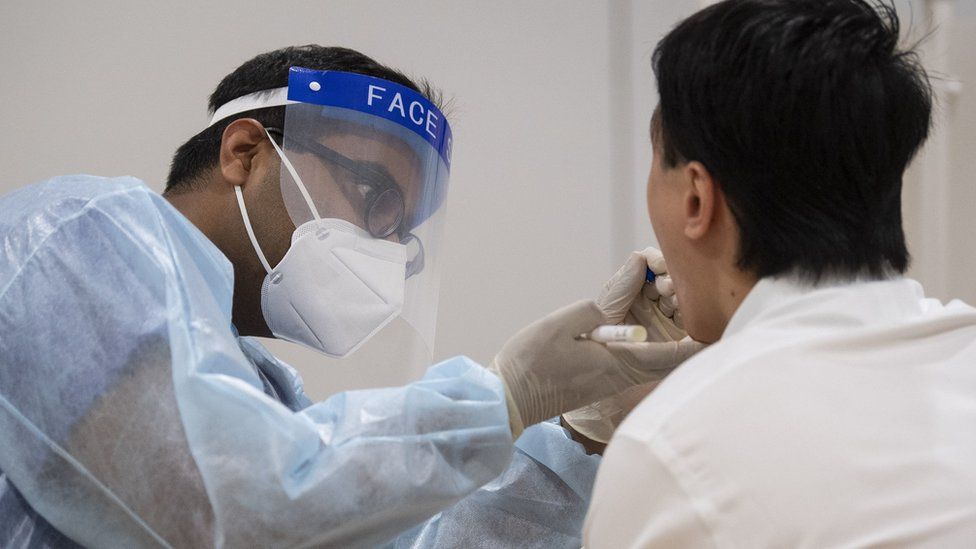 "Dump the rhetoric and plan for a new Covid wave," is the message from some senior health figures to the prime minister in the Observer.
The paper says medical groups including NHS Providers and the Royal College of GPs have issued an urgent plea for a comprehensive plan to tackle a potential second wave of infections.
This includes an "aggressive campaign" to boost flu immunisation this winter, the retraining of more hospital staff and measures to protect care homes.
The government said the NHS had not been overwhelmed and that it would continue to give the NHS "whatever it needs". 
The paper says the address will "effectively re-launch the Conservatives' domestic agenda" with a focus on building new hospitals and funding for upgrades to the country's roads.
The paper points to what it calls the "shambolic" reopening of schools that lacked a nationwide plan and the "ridiculous" 14-day quarantine period for UK arrivals that has a long list of exemptions.
It concludes by saying if the recovery provides a "better and greener" economy, it is something that should be cheered from the rafters.
"Trace disgrace," is the headline in the Sun on Sunday as it reports that hundreds of people trained to run the government's test and trace system are being let go after a week.
One tracer, who works for the outsourcing firm, TTEC, has described the situation as a "mess", with the technology reportedly not working and people "sat waiting for something to do".
TTEC, and the other company responsible, Capita, have not commented on the figures. But TTEC said it was "tailoring personnel requirements". 
The Sunday People carries an interview with the prosecutor involved in the case of the television presenter, Caroline Flack.
In what is described by the paper as a "highly unusual intervention", Ed Beltrami insists that he was right to charge the former Strictly Come Dancing winner with assaulting her boyfriend - despite criticism from some that the Crown Prosecution Service (CPS) was pursuing a show trial.
He says that when the decision was made to take the case to court, he had considered that domestic abuse "has a high risk of repetition" - but the CPS could have had "no idea" that Ms Flack would kill herself.
The paper says the decision reopens the door to imports of chlorinated chicken and hormone-treated beef, but a government spokesperson says the UK will not compromise its high environmental protection, animal welfare and food standards.
"We weren't expecting that, Mr Bond!" is the headline in the Mail on Sunday as it reveals the new 007 film, No Time to Die, will feature James Bond as a father for the first time.
The paper says that he has a five-year-old daughter, called Mathilde, with his love interest Dr Madeleine Swann. One film insider has said the unexpected move has "opened up a whole avenue of powerful moments and jokes".