Newspaper headlines: Vulnerable 'to be told to shield' and 'northern fury'
By BBC News
Staff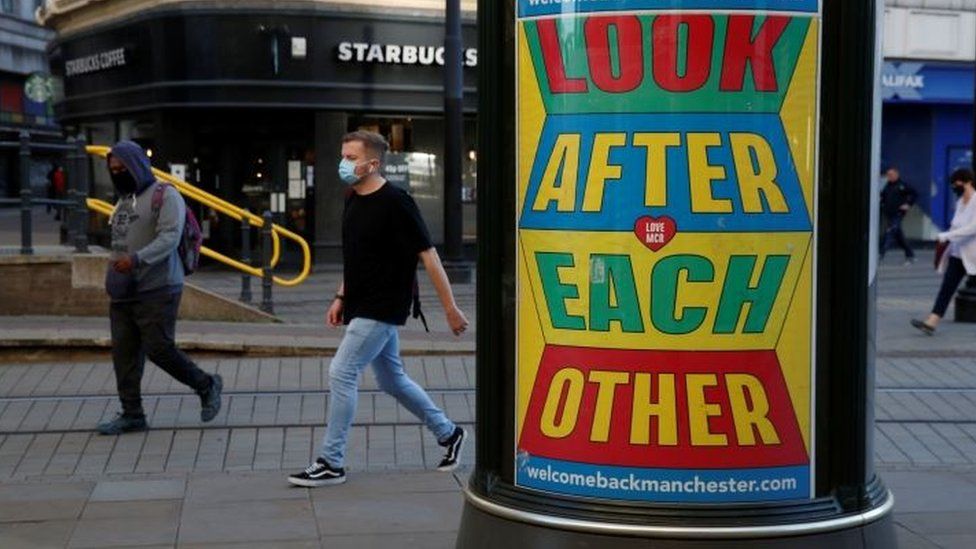 Divisions among scientists, politicians, and the hospitality sector over how to tackle the rising number of coronavirus cases are laid bare on the front pages.
The Guardian has learned that scientists advising the UK government believe the new restrictions in England, due to be announced next week, don't go far enough - and that "fringe" anti-lockdown epidemiologists are gaining too much attention.
It says members of Sage - the Scientific Advisory Group for Emergencies - believe a potential shutdown of pubs and restaurants in the north and Midlands is unlikely to bring cases down to a more manageable level.
That view appears to be supported in a poll of Daily Express readers.
"Majority support tougher lockdown", is the paper's front-page headline.
But the Sun says Prime Minister Boris Johnson is facing growing mutiny over his plans, and, most worryingly, newly-elected Tory MPs in the north of England have broken cover to question the logic of closing pubs and restaurants.
The paper says hospitality businesses feel they are being "hung out to dry".
The former Conservative Party leader William Hague throws his weight behind regional leaders in the north of England over their complaints that the government has failed to consult them about the new measures.
In an interview for the Politico UK website, he says they are right to be upset that they only found out about them from the media.
He tells the website there hasn't been much success yet in giving them ownership over decisions affecting their areas.
Writing in the Daily Mail, former Home Secretary David Blunkett accuses the prime minister of treating a swathe of Britain as an experimental laboratory for testing measures that have limited scientific validity at best.
For its lead, the Times says hundreds of thousands of vulnerable people in England face being told to stay at home this winter as ministers plan to resume shielding in infection hotspots.
But it says the decision could be delayed over fears for the mental health of people told to spend months alone.
A Whitehall source is quoted as saying the measure would be more targeted than during lockdown, such as advising people to avoid shopping at busy times.
The Daily Telegraph leads on the launch of an NHS campaign to encourage people to visit hospitals and GP surgeries, after thousands were turned away during lockdown.
It says the campaign - Help Us to Help You - is aimed at reassuring patients they won't be viewed as a "burden" if they seek help for non-Covid ailments this winter.
Finally, there's much interest in the woman who will be the new public face of the pandemic.
Allegra Stratton, chosen to lead the daily televised Downing Street press briefings, is pictured on several front pages.
The Times says she will stand alone before Britain's media every afternoon as the face of Boris Johnson's failures.
According to the Guardian, Westminster insiders were in rare unanimity in agreeing that she's taking on a tough role.
"Awful job," one sympathetic Labour adviser is quoted as saying.