Newspaper headlines: Front pages mark UK's 100,000 Covid deaths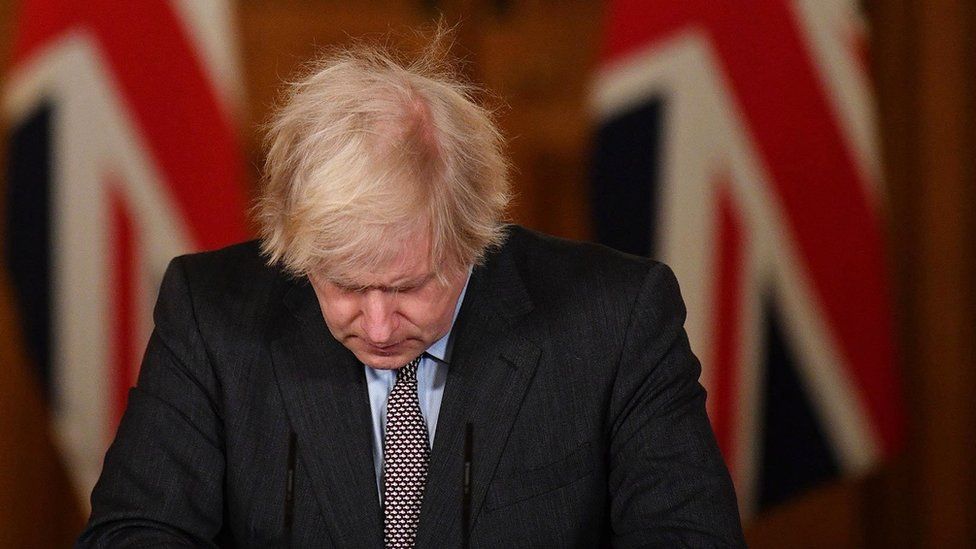 Many of the front pages have pictures of Boris Johnson bowing his head in sorrow as he announced that the number of coronavirus deaths in the UK had passed 100,000.
Many also use his own words at Tuesday's No 10 news conference for their headlines: "I'm deeply sorry".
For the Independent online paper, it's a heart-wrenching, incomprehensible figure. But, it goes on, the reality is that such statistics barely scratch the surface of suffering that has paralysed the UK. Each lost life was a mother, a father, a child, a friend, a neighbour or a colleague - someone known and loved by another.
Judith Woods - writing in the Daily Telegraph - says the grim tally is less a milestone to be marked than a tombstone to be mourned.
The Time's science editor, Tom Whipple, says that when the toll passes 100,000, the conclusion is unavoidable: something has gone badly wrong.
The Mirror launches a campaign to raise funds to provide pupils with stationery and other equipment for studying at home during lockdown. The paper says a shocking number of pupils lack even the basic tools for home learning.
It reports that many children from poor backgrounds are using toilet paper and flyers to write on, while others do not have pens or crayons. The National Education Union has kicked off the Mirror's campaign with a donation of £1m.
According to the Times, the government is set to announce a limited hotel quarantine system for arrivals from high-risk countries. It says the prime minister has rejected calls by Home Secretary Priti Patel for blanket measures covering all passengers.
The paper points out there are logistical issues in finding enough hotel rooms for the 10,000 travellers who fly into Britain every day. But its Scottish edition reports that the UK government decision is likely to frustrate ministers at Holyrood for not going far enough - and Scotland is poised to bring in tougher quarantine rules.
Finally, a number of papers consider what an autumn Chelsea Flower Show will look like - after the organisers announced they were moving this year's event from May to September because of the pandemic.
The Telegraph says gardeners will have to change their planting as many of the usual varieties are at their best in spring and do not flower in autumn.
Instead of favourites such as white foxgloves and lush green foliage, the Daily Mail says, designers will need to look to late flowering varieties such as dahlias and asters to woo the public and impress the judges.