Newspaper headlines: 'March to freedom' and 'return to the great outdoors'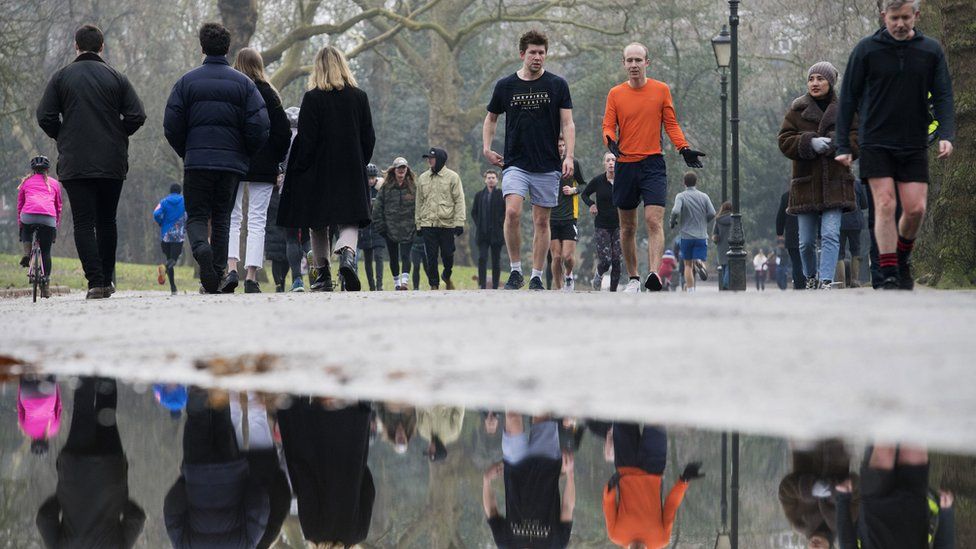 Boris Johnson's "road map" for easing the lockdown rules in England is the lead for most papers.
According to the Guardian, social contact with loved ones will take precedence over the reopening of shops and hospitality - with school sports and family picnics offered as a trade-off for longer closures of shops and restaurants.
The Daily Telegraph reports that the lifting of lockdown will be gradual, spread over at least four months, with social distancing rules and guidance to work from home remaining in the near term.
The Daily Express headline reflects the prime minister's message: "We'll take it one careful step at a time."
For the Daily Mail, it is a "slow march to freedom". But, the paper adds, in a blow to many families, they will not be allowed to take holidays over the Easter weekend.
The Mail says charities have warned that the resumption of indoor visits to care homes in England from next month is "too little too late" for some residents, who no longer recognise their relatives.
The paper prints what it calls harrowing photographs that lay bare the toll that bans on visiting have taken on residents.
It says the before and after pictures illustrate how residents - torn apart from their loved ones - have suffered dramatic declines in their mental and physical health.
It features one 80-year-old woman who always took great pride in her appearance - wearing lipstick and doing her hair every day - but now does not recognise herself in the mirror.
The Times says universities have been accused of inadvertently facilitating money laundering after an investigation by the paper found that they accepted millions of pounds in cash from students from "high-risk" countries such as China, India, Russia and Nigeria.
According to the paper, at least 49 British universities allowed students to use banknotes to pay fees totalling £52m over the past five years.
One security expert is quoted as saying they were "putting out a welcome mat for the world's kleptocrats and money launderers".
In response, the universities say they have strong due diligence procedures in place and some now refuse to accept cash.
Finally, if you live or visit Denbighshire in North Wales, do not expect to see streets named after famous people in future.
The Times says the practice is being discontinued by the county council following the Black Lives Matter protests because people who are honoured may later become controversial.
But the paper reports that the main reason is to avoid asking council officials to decide whether someone is worthy of having a street named after them.
It appears that several families of former members of the armed forces have made requests in the past year, meaning the council has to make a very difficult judgement call.
However, exceptions can be made - the paper adds - for people who have made a once-in-a-generation contribution or truly excelled, such as Captain Sir Tom Moore.