Newspaper headlines: UK-US trade deal speculation and energy bill fears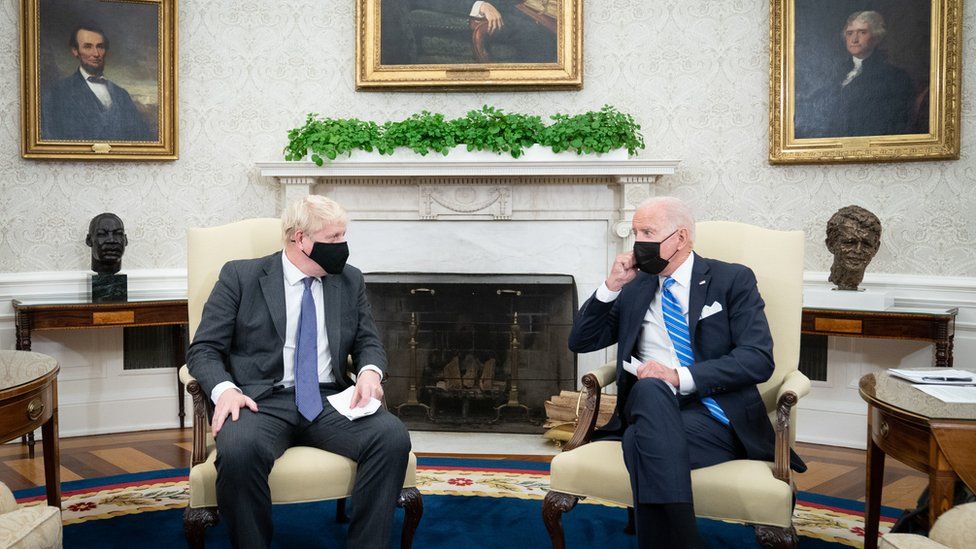 A number of front pages focus on the latest developments in trade deal negotiations between the UK and US.
The Guardian thinks Boris Johnson's hopes of a bilateral agreement "have all but evaporated".
The Express appears buoyed by the possible alternative - what it calls a "colossal" trade pact involving Britain, the US, Canada and Mexico. It insists the tie-up would boost the economy and reinforce the UK on the global stage.
The Times says such a move would mark a "highly symbolic realignment" of British trade away from Europe. The Telegraph sees it as a "stark admission" of a changed trade strategy given that "for half a decade since the Brexit vote a UK-US deal has been a key foreign policy goal".
"I'll lock up the eco-mob", says the Daily Mail's headline, highlighting the threat by Home Secretary Priti Patel to crack down on the climate protestors who have disrupted traffic on the M25.
Ms Patel and the Transport Secretary Grant Shapps are described as "furious" at the "arrogant" activists, telling the paper they will "use jail to end this chaos". The Mail's verdict? "Not before time."
The Sun condemns what it calls the "Thickos of Dibley" - four vicars who took part in the latest demonstration.
The main news for the Telegraph is a suggestion that France is considering sharing its seat on the UN Security Council with other European countries - if they back President Macron's plans for an EU army.
The offer is part of what the paper calls "a diplomatic push for closer EU military integration", led by Paris after Australia pulled out of a contract to buy French submarines.
It says previous demands from Germany for France to share the seat have "always been rebuffed". But Mr Macron is now thought to be willing to put it "at the disposal of the European Union" to "lay the foundation stones" of a standing EU army, something the Telegraph says "remains a distant prospect".
Several leader columns consider No 10's decision to cover the production costs of a US fertiliser firm to help boost supplies of carbon dioxide needed in the food industry.
The Sun is appalled, arguing it's "scandalous" that most of the UK's CO2 comes from two factories "which can be shut down by American executives on a whim". The Mail agrees, insisting an "urgent inquiry" is needed into whether the country has been left exposed to events beyond its control.
For the Times, these are "uncomfortable times" for a government of self-proclaimed Thatcherites - "all starting to look a bit more Edward Heath than the Iron Lady".