#BBCtrending: How social media is shaping Ukraine's protest movement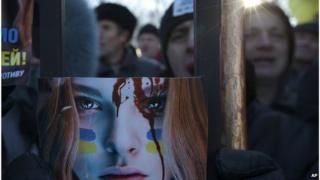 The thousands of pro-European protesters on Ukraine's streets organised using Twitter and Facebook from the start - as reported on this blog - and they are now driving a big change in the country's social media culture.
On social media, Kiev's main square has been renamed. The country's ongoing demonstrations are actually taking place in Independence Square - the same location as the Orange Revolution - but on social media, activists who want a pro-EU rather than pro-Russian future have dubbed it #євромайдан, which translates as #Euromaidan (also #Euromaydan) or European Square. When we first reported on the hashtag on 22 November, it had been used 21,000 times in the space of 24 hours. It's now been used - together with its English and Russian equivalents - a total of more than 730,000 times on Twitter.
That's a lot of tweets, but the twist is that this is a country where Twitter was not widely used - at least not until now. "Twitter wasn't popular before 21 November," says digital marketing expert Maksym Savanevskyy, who says the Russian social media networks VKontakte and Odnoklassniki have traditionally been used far more than Western ones. But the picture has changed dramatically in the past 12 days. Many people who don't have Twitter accounts are following the hashtag to get the latest news, says Savanevskyy, and major online news sites, like Ukrayinska Pravda, have seen a big spike - as much as a ten-fold increase - in traffic from both Twitter and Facebook.
The Euromaidan Facebook page has more than 125,000 followers, and further 4,000 for its English version, and there are similar Facebook pages in cities across the country. "I wanted to spread the news around the world," says Ziemowit Jozwik, a Polish journalist who reports on eastern Europe and who was the first to use the English hashtag #Euromaidan on Twitter. At least five live-streaming webcams have been set up in hotspots across Kiev - and these have proved very popular. Several news and government websites have recently been hacked, though it's not clear by whom, says Savanevskyy - making social media even more critical as a news source.
Reporting by Cordelia Hebblethwaite
Follow @BBCtrending on Twitter and tweet using #BBCtrending