Fight corruption: Zap a Chinese Party member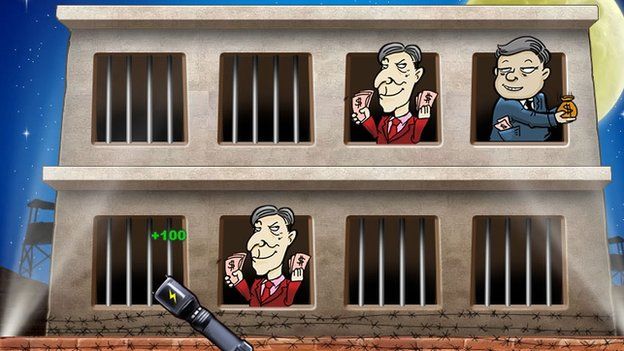 Do you want violent retribution against a corrupt Chinese official? Online gamers have been offered the chance by Chinese state media - but users don't seem interested
The state-run People's Daily has a unique take on China's corruption problem. "Corrupt officials are frightened," says a post on People's Net, their subsection of the Sina Weibo social network. "[W]hether 'tigers' or 'flies,' wave the electric baton and expose them." This is not one of Chinese media's famous metaphorical statements. If you click the link, you are taken to a specially created video game where you can actually use an electric prod to attack - and shock - corrupt bureaucrats.
The drive against official corruption is a hot issue in China, and it is no longer a sensitive or taboo topic. President Xi Jinping openly used the terms "tigers" and "flies" in a speech last October to signify that both senior and junior officials would be exposed for graft. "The People's Daily is the Communist Party's main mouthpiece," says Qiang Zhang, Chinese media analyst at BBC Monitoring. "This is a way to try and be closer to the people, which was a requirement the Party had for its propaganda drive."
In the game itself, you can use the electric prod to zap officials with hearts in their eyes - a reference to the mistresses many officials are partial to - and others with a red stamp in their hand, used to approve contracts. Even police officers can be zapped, earning 100 points a time. "Fighting corruption is the responsibility of all people," urges the accompanying text. "Get yourself on the anti-corruption high-score list."
So far, however, the initiative has fallen flat in China's competitive social media landscape. The 123 shares and 32 comments are tiny by Chinese standards, where hundreds of millions of users are online. Many of the comments about the game are sarcastic. "Now I've finally realised how silly People's Net is," says one. "Fighting corruption by playing games?" questions another.
All our stories are at BBC.com/trendingFollow @BBCtrending on Twitter and tweet using #BBCtrending