#BBCtrending: The 'exorcist' of Azerbaijan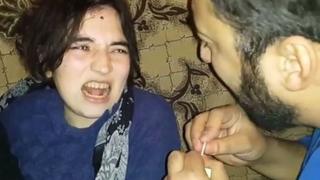 A disturbing video of an alleged "exorcism" of a young woman in Azerbaijan has been widely viewed and discussed in the country - it's even prompted a number of parodies.
For the past two weeks, Azeris have been gripped by the story of a young woman, Lamiya Aliyeva, whose family say she is possessed by the devil. Aliyeva, who is believed to be 24, first appeared on an Azeri talk show in early January. Soon after, a video was posted online which shows her being treated by self-professed exorcist Vusal Merdinli. In the video, he sings and reads to her from the Koran, while she stares with her eyes wide open, occasionally writhing and making quiet roaring-type noises. What has shocked many is the fact that he burns her skin several times with matches.
The video has been viewed 180,000 times and has been widely discussed on Twitter and Facebook in Azerbaijan. Many say she is a vulnerable young woman who is unwell psychologically and has been taken advantage of. "It is obvious that her nerves are destroyed and she is mentally ill," is one comment on Facebook. One lawyer called it a case of "direct subjection to torture". In an interview with BBC Azeri, Aliyeva herself insists her rights have not been violated. She says she saw Merdinli willingly - and has returned for further treatment.
Although many people in Azerbaijan have been highly critical, others have taken the "exorcism" entirely at face value, says the BBC's Khanim Javadova in Baku, believing this to be a case of a woman possessed by the devil receiving treatment. There have been a number of cases of alleged exorcisms posted on sites like YouTube before, she says, and Azeri TV often features people who are presented as psychics or witches. "It's just propaganda to make money" by witch doctors exploiting the superstitious, says Sabina Hasamova with the Azeri news website Azvision, which has produced a parody video ridiculing the "exorcism" - which itself has been widely shared. An Azeri youth group has even made a parody to highlight corruption among teachers, who - they say - often take bribes to give students better marks.
Reporting by Cordelia Hebblethwaite
All our stories are at BBC.com/trending
Follow @BBCtrending on Twitter and tweet using #BBCtrending