#BBCtrending: Egyptian public sceptical about military's HIV 'breakthrough'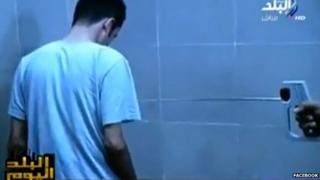 On Saturday the Egyptian government claimed that its military had achieved a "scientific breakthrough" in the detection and treatment of AIDS and hepatitis. But ordinary Egyptians - and the scientific community - are not so sure.
Around this time last year, a story surfaced in Egypt of an exciting new tool in the fight against AIDS and hepatitis. The new "device" promised to revolutionise the detection of the diseases - instead of a blood test, patients would just need to be zapped with something that looked like the controller for a radio-controlled car and was said to be adapted from a device for detecting bombs. The device was supposed to work by detecting electromagnetic waves "emanating from" the virus.
Now the story has resurfaced, with the Egyptian government issuing a press release at the weekend saying that the army has "achieved a scientific breakthrough by inventing systems for diagnosing hepatitis and AIDS without any need to take a sample of blood from the patient". The claims went further, with the C-Fast device supposedly capable not just of diagnosing, but also treating the diseases. But the scientific community is highly doubtful. Emma Thomson, a specialist in infectious diseases at the University of Glasgow, took a look at what appears to be a patent application for the device for BBC Trending and said: "I can find no evidence to support the claims that this device detects hepatitis C or any other viruses as mentioned in the patent, nor any clear theoretical rationale for how it would work."
Egypt has the highest rate of hepatitis C in the world, with around 20% of people either suffering or having recovered from the disease according to the World Health Organisation. Sunday's announcement has caused a stir, with a video of the inventor being shared 12,000 times on Facebook and an ongoing Twitter discussion under the hashtag "Virus C miracle". A few of the tweets were supportive of the government, but what is striking is that the majority were satirical and questioned the science. "There is no such thing as secret military reports in medicine," TV presenter Khalid Muntasir told his 20,000 Twitter followers. "For a medical discovery to be recognized and be declared as such, it must be revealed to the public."
Other comments drew a link between the announcement and the upcoming presidential elections. The army's chief, Field Marshal Abdul Fattah al-Sisi, who was mentioned in the press release, is seen as a frontrunner in the election. One user tweeted: "I suggest you inject Al-Sisi with the virus and then cure him using the army's invention as means to inaugurate it and prove its efficacy." Yesterday, Egypt's president Adly Mansour was reported to have stressed that all scientific results should be reviewed properly before being announced.
Reporting by Mohamed Gade in Cairo and William Kremer
All our stories are at BBC.com/trending
Follow @BBCtrending on Twitter and tweet using #BBCtrending