#BBCtrending: Poor Leo, Oscar selfies, and a Cumberbomb
By BBC Trending
What's popular and why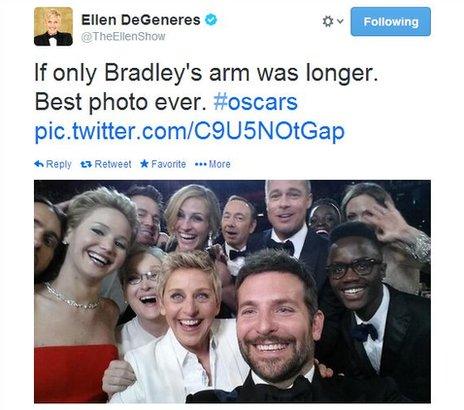 A celebrity-filled selfie posted by Oscar host Ellen DeGeneres has become the most retweeted image in Twitter's history - even briefly crashing the service.
The photo includes, Jennifer Lawrence, Meryl Streep, Kevin Spacey, Brad Pitt, Julia Roberts, Bradley Cooper, and best supporting actress winner Lupita Nyong'o.
It took less than 40 minutes to beat the previous record for most tweeted image - a photo of Michelle and Barack Obama, posted on his re-election in 2012.
By the end of the Oscars ceremony, the celebrity selfie had been retweeted more than two million times.
Host DeGeneres encouraged those watching the Oscars - about one billion people - to make the image the most-retweeted in history, and less than an hour later announced the target had been met.
"We crashed Twitter!" she joked, adding that the service was up again shortly after.
Not quite as popular, but perhaps more amusing, was actor Benedict Cumberbatch's surprise attempt to appear in a red-carpet photo of U2.
As the band posed in neat line, Cumberbatch "photobombed" the picture by leaping up behind them and pulling a face.
The hashtag #Cumberbomb has cropped up on Twitter, with most users quick to praise the Brit for his sense of humour. KlausisKing said "Best photo bomb ever goes to Benedict Cumberbatch :') seriously how can anyone not love this man :D #Cumberbomb."
All in all, there have been more than seven million tweets using the hashtags #oscars and #oscars2014.
Leonardo DiCaprio's fans flooded the social networking site with messages of condolence after he missed out on the Oscar for Best Actor.
The phrase 'Poor Leo' started trending when he failed to win for his performance in The Wolf of Wall Street. The award went to Matthew McConaughey instead for his role in Dallas Buyers Club.
It was the fourth time DiCaprio had been nominated for an Oscar - having been shortlisted for his appearance in What's Eating Gilbert Grape, The Aviator, and Blood Diamond - but he is yet to win.
Poor Leo has been tweeted almost 40,000 times in the last 12 hours, accompanied by a string of images of the actor looking dismayed. Many were overlaid with mock quotes such as "Dear academy why do u hate me, luv Leo".
It was also a big night on Twitter for Kenyan actress Lupita Nyong'o, who won her Oscar for playing Patsey, a young slave girl working on a cotton plantation in Louisiana, in 12 Years a Slave.
Quotes from her speech were widely tweeted, especially this line: "May it remind me and every little child that no matter where you are from, your dreams are valid."
Even before the ceremony started, Nyong'o was trending - from London to Nairobi to LA - for her simple, sparkly headband and her dress.
One of the most popular hashtags was #Nairobiblue, which began to trend soon after Nyong'o spoke on the red carpet and said the colour of her dress reminded her of Nairobi.
She was among the candidates for #bestdressed - though Kate Hudson seems to have won over both the Twitter audience and the fashion critics.
Jennifer Lawrence also trended, when what must surely be her worst nightmare came true: She tripped… again! This year's trip was on the red carpet - not on the way up to the stage - but was nevertheless spotted by photographers, and images of the stumble were widely shared.
One of the top trending hashtags in the lead up to the ceremony was #OscarsforVenezuela. It was started by activists as a way of encouraging Oscar nominees to raise the profile of the protests in Venezuela. The hashtag has been used more than 670,000 times in the last four days.
They got a mention from the very first winner of the night - Jared Leto, who won best supporting actor for his role in Dallas Buyers Club. "We are thinking of you tonight," he said in his acceptance speech, referring to both Venezuela and Ukraine.
His comments were welcomed by Venezuelan actor Albi De Abreu. "It is the only way we have to communicate our violated human rights to the world," he said.
In the last few years, there has been a growing trend for academics and data analytics companies to attempt to predict the results of the Oscars, using social media. And it was a successful night for them.
"To be honest, I'm quite amazed - I wasn't really expecting to get so many correct," says Colin Cheng, with the London-based digital agency MintTwist, which correctly predicted four out of five of the main winners.
The analytics company Farsite scored a full house - getting six out of six predictions correct. Both companies combine an analysis of social media discussion, with patterns from previous Oscar years, and results from other awards in the season.