#BBCtrending: What can you buy for 50 rupees in India?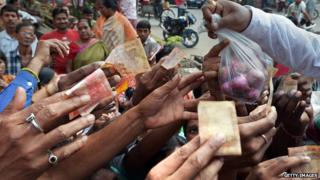 What can you buy for 50 rupees in India? A political bribe, a traffic warden's favours, or a vote - just some of the answers from Indians who hijacked a promotional hashtag.
When Big Bazaar - a major supermarket chain in India - created a hashtag to encourage people to tell them what 50 rupees ($0.80; 50p) could buy, they were hoping to show what good value their products were. They probably didn't expect the hashtag to be used for scathing social commentary about the state of the nation. The hashtag has been tweeted 7,000 times.
Big Bazaar tweeted: "Tell us what all you can buy with Rs. 50 by taking part in #With50RupeesICanBuy #contest," and offered three shopping vouchers worth 1000 rupees ($15; £10) to the winners. But Indians used the hashtag to complain about problems including bribery, corruption, the price of petrol and politicians.
"We are a poor country and there is a huge percentage of children that are malnourished," Sonam Kukreja told BBC Trending after she tweeted that 50 rupees could buy an entire day of meals for a "poor child". "We are a liberal country and we say what we feel... Mostly people did highlight poverty and corruption in their tweets, because it is nothing but the truth," she adds.
Shilpa Khanna also used the hashtag to highlight the disparity between the rich and poor. "It amused me how different people value and perceive the same amount in different ways. Some respected the amount, while others just ridiculed it," she says.
As we have reported on this blog before, hashtag "hijacking" is a common problem - especially for big companies and politicians. "Promotional campaigns are a mixed game," Akshay Mehrotra, chief marketing officer for Big Bazaar told BBC Trending. "We like to communicate with modern tools to get people to engage." Despite the fact that a large proportion of the tweets using the hashtag were sarcastic or making jokes, Big Bazaar's own tweets - promoting their brand - were still the most retweeted.
Reporting by Ravin Sampat
All our stories are at BBC.com/trending
Follow @BBCtrending on Twitter and tweet using #BBCtrending