#BBCtrending: The man who provoked fights for fame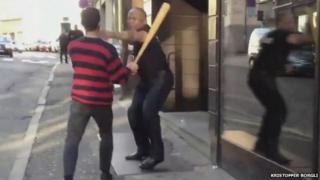 A Norwegian man has gone to extreme lengths to make an online hit video. His ploy worked, but his actor ended up with a bloody nose.
What makes a video go "viral" on the internet? Sure, videos of cats, babies, endless parodies and anything remotely awkward are popular - but how about violence?
A Norwegian filmmaker has made a documentary called Internet Famous. The film follows an actor who starts real fights with members of the public, some of which became viral hits in their own right.
One video, uploaded on 25 February, has been viewed more than a million times, and generated more than 4,000 comments on WorldStarHipHop.com, a site which has been criticised for glorifying sex and violence. Shared widely across social media networks, including Facebook, Twitter and Reddit, the video shows Amir Asgharnejad - a Norwegian comedian - purposefully goad a muscular bouncer sitting on the curb of an Oslo street. Asgharnejad begins threatening him with a baseball bat, but after a brief stand-off, the bouncer punches the actor, leaving him bloodied on the floor.
Did the team behind the video go too far? Not according to the director Kristoffer Borgli, who told BBC Trending that the point of his film was to make something "creative".
But some would argue the video sets a dangerous precedent - not only is it potentially criminal - but it shows the extreme measures some will take to become famous on the internet. Asgharnejad says he is not a fan of violence, but that this was an experimental film. "As a comedian watching it, I appreciate the slapstick element of it. It just seems silly and stupid."
Many mainstream video sites censor violent content, but the popularity of this video illustrates the emergence of alternative and highly controversial video sharing platforms.
Reporting by Ravin Sampat
Hear more on this story on BBC Trending on BBC World Service at 11:30 GMT on Saturday. You can listen to the programme here, and subscribe to the free podcast here.
All our stories are at BBC.com/trending