#BBCtrending: How the MH370 website ended up on eBay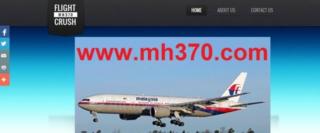 As people flock online to find out about the missing MH370 flight, an eBay seller has sought to profit from the trend by "flipping" the domain name MH370.com.
The hashtag #PrayforMH370 has been tweeted more than 1.8 million times since news of the missing flight broke on Friday night - and been used to share messages of condolence and support. But in an attempt to monetise the flow of traffic, somebody has registered a web address and tried to sell it for $5,000 (£3,000).
An eBay auction for the domain told potential buyers why bidding could be advantageous: "Buy this domain today and sell it later on for thousands of dollars," it began. "Dozens of companies, families of victims, will want to buy it from you. Pay little money today and make huge profit tomorrow," it continued.
Registering web domain names and then selling them - known as "flipping" - is common practice online. Some labelled the sale "despicable" on Twitter, and the outcry appears to have had an effect. The auction was closed before it ended, and the site does not appear to have changed hands.
So who initially registered the domain? BBC Trending has not been able to confirm the person's identity so far.
The Malaysia Airlines flight disappeared en route from Kuala Lumpur to Beijing on Friday evening, with 239 passengers and crew on board.
Reporting by Sam Judah
All our stories are at BBC.com/trending
Follow @BBCtrending on Twitter and tweet using #BBCtrending