#BBCtrending: Philadelphia's search for mother filmed on bus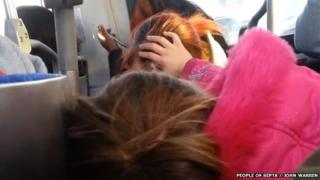 A Facebook page designed to ridicule poor people on Philadelphia's public transport system has triggered a real life search for a young mother and her child.
It started with cruel humour. The "People of Septa" page encourages residents of the US city to upload images, typically of poor, overweight or disoriented people travelling on SEPTA - the Southeastern Pennsylvania Transportation Authority. The pictures and videos often prompt hundreds of abusive comments.
A video shot on a phone and uploaded last week was, at first, no exception. It shows a mother swaying on the edge of her seat whilst her young daughter tries to revive her, and remind her of their stop. But in this case, as well as triggering the predictable disdain - "She's a JUNKIE and a horrible mother" said one commenter - the film generated widespread concern for the pair, and has now been shared more than 82,000 times. Another post asked: "Why did someone film this and do nothing? Also, do we know for certain that the mother was on heroin? No-one went to her aid and asked what was wrong."
The video was subsequently shared on the Facebook page of Philadelphia's Department of Human Services (DHS) - a local government child protection agency - and accompanied by calls for the authorities to take action. The police were alerted too, and began an attempt to identify the mother. "We received numerous complaints," says an officer at the Philadelphia Police Department, who confirms that the DHS has located the family, and now been in touch. The DHS told us they are unable to comment on specific cases, but unconfirmed local newspaper reports suggest the child has now been taken into custody.
The officer told the BBC that People of Septa is "just some site that was created by nobody of importance, who decided it would be a good idea to make fun of people on our public transportation." BBC Trending's attempts to contact the page's administrators were met with rude replies. But however abusive sites like this may be, the authorities are clearly paying attention. David Gambacorta, a local journalist who has covered the story, says the "People of Septa" Facebook page doesn't offer a full picture of the city, but that its cruel humour does highlight common problems. Philadelphia is home to the highest "deep poverty" rate of America's 10 largest cities, he says.
Reporting by Sam Judah
All our stories are at BBC.com/trending
Follow @BBCtrending on Twitter and tweet using #BBCtrending