#BBCtrending: The troll in the president's office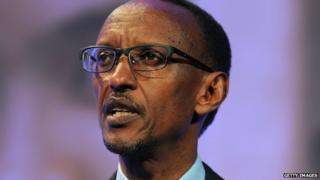 Rwandan President Paul Kagame is one of Africa's most widely followed leaders on social media. But last week his Twitter account sent a bizarre message - linking the president to a notorious Twitter troll.
Until recently, anyone who wanted a daily diet of politically incorrect abuse from Rwanda could simply follow @RichardGoldston on Twitter. He was an anonymous Rwandan tweeter (and no relation to Richard Goldstone, a former prosecutor on the International Criminal Tribunal for Rwanda) who routinely hurled insults and made comments that differed considerably from Rwandan government policy.
For example, he called South African president Jacob Zuma a "black retard"'. The African Union, United Nations, and neighbouring countries such as Tanzania also came in for routine criticism by the account: "dont even talk of the AU, its a toothless dog, the UN is used by powerful nations for own agendas," he tweeted.
Then, last week, a strange thing happened. A foreign journalist asked Richard Goldston to stop making misogynistic comments on Twitter and offered to email or call him to explain. He suddenly received a tweet in reply - but not from Richard Goldston's account. Instead, it came from President Kagame's account. That's right - from the President's own account. "Go right ahead," it said, "hero, I haven seen no email yet, or hear my phone ring yet."
How could this have happened? We still don't know who the person behind "Richard Goldston" on Twitter is. But it appears that the person may have been a ghost tweeter who also had access to President Kagame's Twitter account.
Richard Goldston's account has now been deleted, and Paul Kagame's office tweeted: "@RichardGoldston was an unauthorized account run by an employee in the Presidency. It has been deleted and the staff member reprimanded." The President's office later told BBC Trending that the account belonged to a "junior employee", but refused to say who it was, or what action had been taken.
So what can we conclude from the strange case of Richard Goldston? Some have speculated about what it tells us about the political views of President Kagame, who has been called Africa's "Digital President." For example, Richard Goldston regularly tweeted in support of the M23 rebellion in neighbouring Democratic Republic of Congo - a rebellion the government of Rwanda has consistently denied supporting. The Presidency denies this, however. "Opinions put forward in that account do not in any way reflect the views or policy of the Government of Rwanda," the President's office said.
Reporting by Mike Wendling
Have you subscribed the BBC Trending podcast? You can do so here via iTunes or here
All our stories are at BBC.com/trending