#BBCtrending: Have you ever crossed a river in a plastic bag?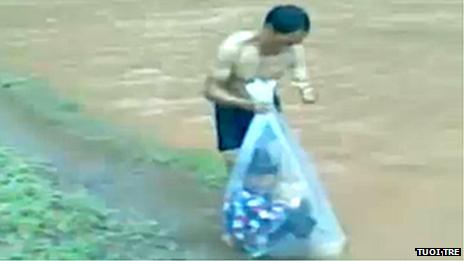 Here at BBC Trending we are always on the lookout for stories trending on social media around the world. Here's a selection of five global trends that have caught our eye.
Many children around the world take the bus to school but in a mountainous area in the north of Vietnam, plastic bags have become the means of transport. This video, filmed by a primary school teacher, shows school children and teachers squeezing themselves into plastic bags so that they can be carried across a river. It's been widely shared on social media as people discuss the standard of bridge construction in remote parts of the country. In February, nine people died and many were injured after a suspension bridge collapsed in Lai Chau Province. Have you ever crossed a river in a plastic bag? What's the most unusual form of transport you've taken? We plan to follow up on this story. Tweet us @BBCtrending or email trending@bbc.co.uk.
Guide to guerrilla warfare
Internet users in Ukraine have been sharing an image and a download of a guerrilla warfare guidebook. The book is believed to have been published in Switzerland but was translated into Russian by the Soviet Main Intelligence Directorate back in the 1980s. Some of the comments online say the book is relevant reading now that Crimea has voted to break away from Ukraine and join Russia.
Religious police in Saudi Arabia
Saudi Arabia's religious police are often the subject of criticism on social media. But a video at the annual Riyadh International Book Fair is proving to be the exception to the rule. It shows the religious police taking issue with some books for being anti-Islamic and has received lots of positive comments. So far the video has been viewed 1.5 million times.
China cracks down on WeChat
There are reports that Chinese authorities have launched a crackdown on the popular social messaging app WeChat, closing dozens of popular accounts. Many of those accounts were set up by journalists and commentators who delivered occasionally sensitive news and commentary to their subscribers. A similar crackdown on the Twitter-like Sina Weibo and other microblogs in 2013 had helped WeChat's service grow more popular. WeChat has 271 million users.
What would you do if you saw a homeless boy on the street asking for money to buy his sister a meal? An experiment in the US uses a child actor to see how people will react. It has caught the attention of over 2 million people on YouTube. A similar video concept in Norway has been viewed 13 million times and shows lots of people helping a boy freezing at a bus stop
Do you know more about the above stories? What's trending where you are? Get in touch with us on Twitter @BBCtrending or email trending@bbc.co.uk