#BBCtrending: Russians on social media 'block entry' to Obama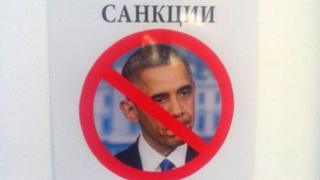 BBC Trending is the BBC's social media team, reporting on stories trending around the world. Here's our latest dose of five global trends.
Obama 'barred' from Russia
Some Russians have been busy making homemade "no entry" signs barring US president Barack Obama and other top American officials from entering their shops and offices - and sharing them on social media.
Some of the signs even ban him from stroking their pets. It's a response to recent US sanctions on a number of officials, following the referendum in Crimea. The images are in good humour, but the sentiment behind them is telling, says the BBC's Dmitry Shishkin.
#Torybingo
The UK's Conservative Party is being widely mocked on Twitter, as an advert promoting the new budget has been called "patronising". It highlights cuts to taxes on beer and bingo, saying this will "help hardworking people do more of the things they enjoy".
Late on Wednesday, the Conservative Party chairman Grant Shapps tweeted an image from the ad and urged others to "spread the word". The response was not positive. "What planet are you on? Unbelievable," was one of the tweets.
Soon after, the hashtag #Torybingo began to trend, with many people spoofing the original ad. A mocked-up picture of senior Tories playing bingo was widely shared. There have been more than 35,000 tweets using the hashtag.
Chronicles of a missing iPhone
When Jenny Roberts Dodge lost her iPhone, she thought it was gone forever. But she tracked it down to a local bar, and when she collected it, she discovered a series of video recordings from the stranger who handed it in. The videos - which she posted on YouTube - show him wandering around the city, wondering how he will ever get the phone back to her. Dodge still doesn't know who the stranger was, but she says "thank you" anyway.
Crimea's internet star
The new prosecutor general of Crimea, Natalia Poklonskaya, appears to have made a big impression in both Russia and Japan. But it's nothing to do with anything she has said or done. What has captivated Japanese and Russians on social media is her looks, where countless "fan art" images have been created.
Death of a legend
One of India's best known authors and journalists, Khushwant Singh, has been trending in India following his death at the age of 99. Entrepreneur Ramesh Srivats tweeted: "Khushwant Singh, you don't need an RIP. I don't see you ever seeking rest, or peace. Enjoy." Some of the tweets referred to the risque nature of his work, and life. "From all I have heard, the tribute he would prefer would involve the drinking of scotch and telling of dirty jokes!" tweeted journalist Gaurav Kalra.
Have you subscribed the BBC Trending podcast? You can do so here via iTunes or here
All our stories are at BBC.com/trending