#BBCtrending: Protesters and politicians defy Turkey's Twitter block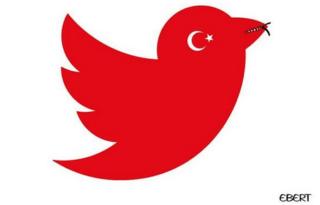 Twitter is blocked in Turkey. But that hasn't stopped swathes of people in the country from tweeting using technical loopholes - including the president and several senior politicians.
Since late on Thursday night Twitter users in Turkey have been confronted with a message telling them "protection measures" have been placed on the network. The block was implemented by the government shortly after Prime Minister Recep Tayyip Erdogan threatened to "wipe out Twitter", because allegations of corruption were posted on the site.
But overnight, thousands of people have found ways to skirt the restrictions, and sharing instructions on how to do so. The hashtag #TwitterisblockedinTurkey has been used more than half a million times in the last 12 hours, mostly by users in Turkey itself. Others, including #OccupyTwitter and #ErdoganBlocksTwitter, are also trending. It is telling that many of the most popular tags - as well as the tweets themselves - are written in English, in a bid to draw international attention. As in other countries where Twitter is blocked, Turks have been using proxy servers to access the network. Two more popular phrases - DNS and VPN - also feature frequently in the messages, along with instructions on how to sidestep the block.
It isn't just Turkish citizens that have found ways to bypass the block, however. Senior politicians have been circumventing the restrictions as well. The country's president Abdullah Gul tweeted that "the shutdown of social media platforms can not be condoned" - his first post since approving a law allowing tighter government control of internet access. The Deputy Prime Minister Bulent Arinc tweeted about a forthcoming political rally, suggesting he had chosen to ignore the ban, or assuming it did not apply to him. The block has so far proved ineffective in suppressing political satire, and the network has been flooded with images mocking the decision.
Reporting by Sam Judah
Have you subscribed the BBC Trending podcast? You can do so here via iTunes or here
All our stories are at BBC.com/trending