#BBCtrending: What's behind Turkey's YouTube block, and will Facebook be next?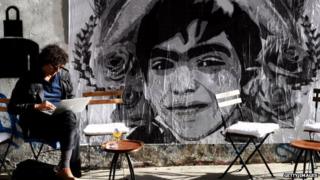 On Thursday the Turkish government blocked YouTube, having done the same to Twitter last week. But why is Prime Minister Erdogan so determined to shut down social media?
His frustration began in May last year, when demonstrators organised a protest on Twitter to save Istanbul's Gezi Park from demolition. Erdogan sent riot police armed with tear gas and water cannon to disperse the crowds. But the aggressive response only enflamed matters, and sparked solidarity protests across the country.
The unrest saw divisions open up in an old political alliance. Erdogan's governing AK Party had been supported for years by a disparate but powerful group of Turks who follow the teachings of an imam now living in America. His name is Fethullah Gulen, and his supporters form what is known as the Hizmet movement. Since the Gezi Park protests, a series of disagreements between the two groups has threatened to undermine Erdogan's authority. Hizmet has a huge following, and its supporters occupy positions of power right across Turkish society.
In December, a number of taped phone calls which appeared to expose corruption amongst Erdogan and his allies were posted anonymously on Twitter. More allegations followed, including many which were personal to the prime minister. Erdogan claims these have been fabricated by members of Hizmet, and blames social media for allowing them to spread. In February his government rushed through a new law allowing websites to be blocked on command. Earlier this month, when Twitter refused his request to remove posts he claimed were libellous, Erdogan acted to enforce the block.
Is the Hizmet movement "trolling" Prime Minister Erdogan? They rarely give interviews but journalist Selcuk Gultasli, Brussels Correspondent for the Zaman newspaper - which takes inspiration from Gulen's teachings - told BBC Trending he thought it was "misleading" to call it a concerted campaign. "Twitter and Facebook are very much used in Turkey, and there is huge pressure on traditional media," he said, "so it is only natural that social media will be the venue where allegations are circulated freely."
The most recent leak was not posted on Twitter, but on YouTube, and its implications are more serious. The audio recording appears to have been made at a face-to-face meeting, where senior ministers were discussing possible military action in Syria. Its publication has triggered the same reaction from the government, which has now blocked access to YouTube as well. On Friday Deputy Prime Minister Bulent Arinc told journalists there were no plans to block Facebook, but this has not stopped the rumours that it may be next in line.
Reporting by Sam Judah
Have you subscribed the BBC Trending podcast? You can do so here via iTunes or here
All our stories are at BBC.com/trending