#BBCtrending: 'I don't deserve to be raped' say women in Brazil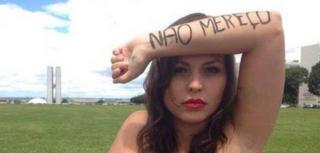 There's been a huge backlash on social media in Brazil, after a new survey suggested 65% of Brazilians think women who dress in a revealing way "deserve to be attacked".
Late last week, a major Brazilian research institute published a report on attitudes towards sexual harassment and rape. They asked 3,800 people across the country if "women who wear clothes that show off their body deserve to be attacked". Some 65% said they agreed to some degree. More than half also agreed that "if women knew how to behave, there would be fewer rapes". The findings have provoked a wave of anger - expressed across social networking sites.
The online protest was launched on Facebook, where people were encouraged to use the hashtags "I don't deserve to be raped" (#NãoMereçoSerEstuprada) and "Nobody deserves" (#NinguémMerece). A Facebook group, which now has more than 3,000 members, was started by journalist Nana Queiroz, and similar pages have tens of thousands more. Queiroz posted a photo of herself naked, standing in front of the Brazilian congress building, covered only by her arms on which she had written the name of the new campaign: "I don't deserve to be raped". Similar images soon followed and have been posted across Facebook, Twitter and Instagram.
Queiroz told BBC Trending she was most surprised to find out that two-thirds of those questioned for the survey were women themselves. "These women are the biggest victims of sexism. They are so oppressed that they don't even feel that they have the right to have their own opinion," she says. Some have questioned the methodology of the survey, and suggested more detailed research needs to be carried out before it can be considered conclusive. Indeed, responses to another question suggested 91% of Brazilians thought men should be imprisoned for beating their partners. Dilma Rousseff, Brazil's first female president has even tweeted about the survey - saying the country has "a long way to go on combating violence against women".
Update 11 April 2014: The institute which published the research - the IPEA - last week revealed it had made a mistake in its findings. The correct figure for the percentage of Brazilians surveyed who agreed that women who dress in a revealing way "deserve to be attacked" was actually 26% they said - not 65%. Nana Queiroz told BBC Brasil that it's the institute which has been "discredited" - not the protest movement. Earlier this week Queiroz met President Rousseff to discuss a campaign to get doctors and teachers more involved in changing attitudes on rape and sexual harassment.
Reporting by Sam Judah and Camilla Costa
Have you subscribed the BBC Trending podcast? You can do so here via iTunes or here
All our stories are at BBC.com/trending