#BBCtrending: Celebrity apology breaks Weibo record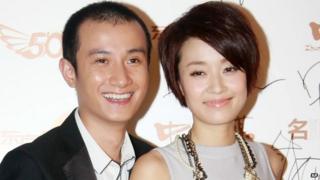 A very public apology from an actor to his wife has become the biggest post of all time on Chinese micro-blogging site Weibo.
Wen Zhang is a major film and TV star in China, and has been married to actress Ma Yili for eight years. But recently pictures surfaced in which he appeared to be on a date with another woman, Yao Di, the co-star of his current TV show. Rather than dealing with the problem behind closed doors, Wen Zhang took to Weibo - a Chinese social media service similar to Twitter - to apologise to his wife in public. "I have brought this upon myself... Please accept my heart-felt apology and remorse... My mistake does not deserve to be forgiven, and it will be difficult for me to make amends for all the harm I've caused," he wrote.
The open nature of his response resonated with Weibo users, provoking a wave of activity on the network. It has now been shared 1.25 million times, and generated almost 2 million comments. The figures continue to grow, and the post has become the biggest ever to appear on the network. Many respondents were unimpressed: "Wen Zhang deceived all of us. He gained popularity by presenting himself as a good man and a good dad. But he has now turned out to be a hypocrite," said one. "You have been having an affair for a year and never repented. Now you are repentant just a day after you were exposed?" another posted. Some pointed out that the comments on Zhang's page weren't as abusive as those levelled at Yao Di, the woman with whom he had the affair. "Does society treat men and women so differently in terms of the level of tolerance and public opinion?" said one comment.
Ma Yili answered online, also choosing to post her response on Weibo. "Being in love is easy, being married is not. It is to be cherished," she wrote, and her own message prompted more than a million comments. Wen Zhang later hit out at the two senior journalists who exposed his affair. "You both have children. When will you stop? If you want to play, play with me alone and don't involve others," he posted.
Have you subscribed the BBC Trending podcast? You can do so here via iTunes or here
All our stories are at BBC.com/trending