#BBCtrending: Turkey's Twitter block 'lifted'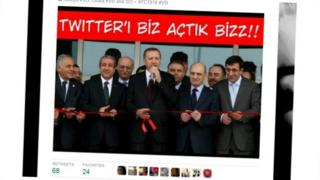 Twitter appears to be returning to normal in Turkey two weeks after the government blocked the site, prompting a mixture of derision and jubilation from Turkish netizens.
The hashtag "Welcome back Twitter" (#TekrarHoşgeldinTwitter) has been used more than 40,000 times already, as Turks storm the network to discuss the news. Some reports suggested it may be some hours before normal service is resumed. More than 80% of tweets using the hashtag were posted from within Turkey, implying either that people are flouting the block - as they have done in droves since it was implemented - or that service is getting back to normal. "How we've missed you," says one of the tweets. "Twitter won! Dictator lost!" says another. Many uploaded satirical images highlighting how ineffective the block was.
The country's telecoms authority has lifted the Twitter restrictions, following a court decision to overturn the block on Wednesday. Two weeks ago Turkish Prime Minister Recep Tayyip Erdogan said he would "wipe out Twitter" amid allegations of government corruption. Youtube was also blocked last week after an audio recording - apparently revealing officials discussing military action in Syria - was uploaded on the site. There is currently no news on that block being lifted.
Have you subscribed the BBC Trending podcast? You can do so here via iTunes or here
All our stories are at BBC.com/trending