#BBCtrending: #SaveAleppo - Syria's cry for help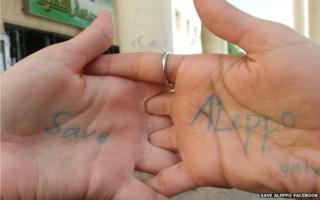 There's a major social media campaign underway to raise awareness about the desperate situation for many people in Aleppo, Syria - using the hashtag #SaveAleppo.
There have been almost 120,000 tweets using the hashtags #SaveAleppo and #Save_Aleppo since the campaign kicked off on Friday. And that's just on Twitter. There have been thousands more stories shared on Facebook. More than 35,000 people have "liked" a dedicated "Save Aleppo" Facebook page, set up by pro-opposition activists.
People are being encouraged to post images and videos from Aleppo as a way of highlighting how serious the situation is there. Many of the pictures are graphic, showing buildings collapsed to rubble, and injured residents.
"It's horrifying," says Natacha Draghi who is from Aleppo and is now living in Belgium. "I see the photos of the destruction and I can't even compute it... It feels like a constant ache in the chest." Draghi is one of many Syrians who have changed their Twitter or Facebook profile pictures to a green "Save Aleppo" sign. There have also been messages of support from around the world - including from Egypt, Sweden, Germany and Turkey.
Aleppo, in the north of Syria, has seen some of the fiercest fighting in the conflict. It's held by rebel forces and has come under heavy attack from the government - keen to regain control of the city. In late December 2013, there were reports that barrels packed with explosives bombs were dropped on Aleppo.
#SaveAleppo is a direct response to the #SaveKessab Twitter campaign, which - as we reported in video and in radio - started two weeks ago and was led by Armenian-Americans. Kessab is a village in the north-west of Syria, which has a large Armenian population. It was recently taken by rebels, and the residents fled - prompting the hashtag. Critics complained that the campaign was a distraction from more serious atrocities taking place elsewhere in the country, and pointed out that some of the images being shared had been taken out of context.
Reporting by Faisal Irshaid, BBC Monitoring
Have you subscribed the BBC Trending podcast? You can do so here via iTunes or here
All our stories are at BBC.com/trending