#BBCtrending: Saudi women and shisha smoking rights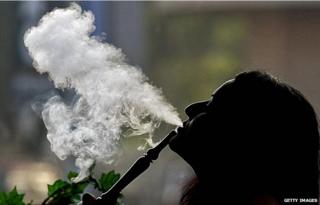 Should a woman have a male guardian with her at a shisha cafe? That's the debate raging on social media in Saudi Arabia.
It started with a photo posted on Twitter reportedly of a sign outside a shisha cafe in Saudi Arabia. Women were permitted to enter, it said, but only with a male escort.
Since the weekend, a discussion has been gathering pace in the country. The hashtag "Shisha Is Banned for Girls Without a Male Guardian" (#منع_تقديم_الشيشة_للفتيات_بدون_محرم) started to trend, with almost 80,000 tweets at the time of writing.
Many women were not amused, and responded with sarcasm. "All that's left is for you to tell us not to go to the bathroom without guardian," tweeted one woman. "What if I take a puff of shisha while my guardian is in the toilet? Should I blow it back out or keep it in until he comes back," said another. Some men also joked about the move. "It will be 50 [Saudi riyals] per hour to hire me," was one tweet.
But some on social media clearly supported the move. "It is a good decision, and the goal is to reduce the danger of smoking shisha among girls. There are girls who go to cafes to smoke shisha behind their parents' back," for example.
The guardian system, known as mahram, is strictly enforced in Saudi Arabia. It requires a woman to gain permission from a male guardian for all sorts of things - including travel, work, medical procedures and marriage. In a damning report, Human Rights Watch referred to it as: "the most significant impediment to the realization of women's rights in the kingdom".
Shisha, also referred to as a hookah, is popular with both men and women in Arab countries - and appears to be gaining in popularity in the UK too. It's an ornate waterpipe with a long tube used to smoke fruit-scented tabacco, and is often smoked socially.
As we've reported on this blog before, it's very common for stories to get picked up on social media and to spread rapidly before the full facts are known. The sign from the cafe in question said it was operating on the instructions of the Commission for the Promotion of Virtue and Prevention of Vice - often referred to simply as the "religious police". A spokesperson at the commission however told one newspaper that their instructions had been misunderstood, and the ban applied to under 18s - not women without a guardian.
Reporting by Cordelia Hebblethwaite
All our stories are at bbc.com/trending
You can follow us on Twitter @BBCtrending